An informational meeting was held to discuss the next steps for the UTPB STEM Academy
In an ongoing effort to keep families updated on the future of the STEM Academy, the  UTPB STEM Task Force hosted an information meeting on Thursday, March 6, 2020  to share ideas and discuss options.
UT Permian Basin President, Dr. Sandra Woodley appointed the task force to help find a solution. Comprised of STEM parents, UTPB faculty, community members and even a STEM Academy student, the task force has been hard at work for the past nine months!
 The mission of the taskforce is to:
Evaluate all options that can provide long term sustainability for STEM
Research and document the facts/ the pros / and the cons
Represent the voices of STEM families
Develop final recommendations
During the meeting the task force presented their findings to fellow STEM parents. Currently, there are four options on the table:
Become a stand-alone (sub chapter D) charter school
Merge with existing charter (i.e. Compass, others)
ECISD Subchapter C
Remain UTPB Charter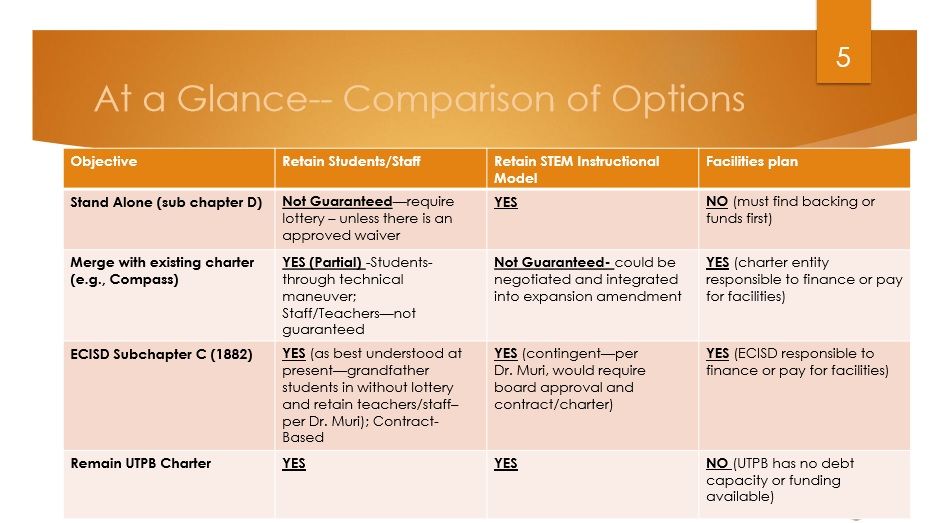 "We have every intention of keeping the STEM academy open and thriving! Right now we are working to develop plans to assure the long-term future of STEM," said President Woodley
Each option presented comes with pros and cons. Details on all the recommended options can be found here. The three primary objectives for each option are:
Retain students, teachers, and staff
Retain the STEM model
Find a long-term plan-of-action for permanent facilities
So what is the timeline for the future of STEM? As of now, no final decision has been made.
"The main reason is, I don't yet know how long it will take to fully explore the options and I don't want to rush the work. Generally, I estimate that it will take another 6-12 months to zero-in on the best solution, and then it will take another year or more to implement it," said Dr. Woodley
UT Permian Basin will continue to keep STEM parents informed on what's next. Dr. Woodley will once again offer opportunities to sign up for small group meetings with her in in the coming months.