New enrollment numbers for fall 2020 are in and they show important gains
The University of Texas Permian Basin celebrated its largest graduating class in 2019 with 1,375 graduates and we are on track for another record year in 2020.  Graduates have increased by over 40% since 2016.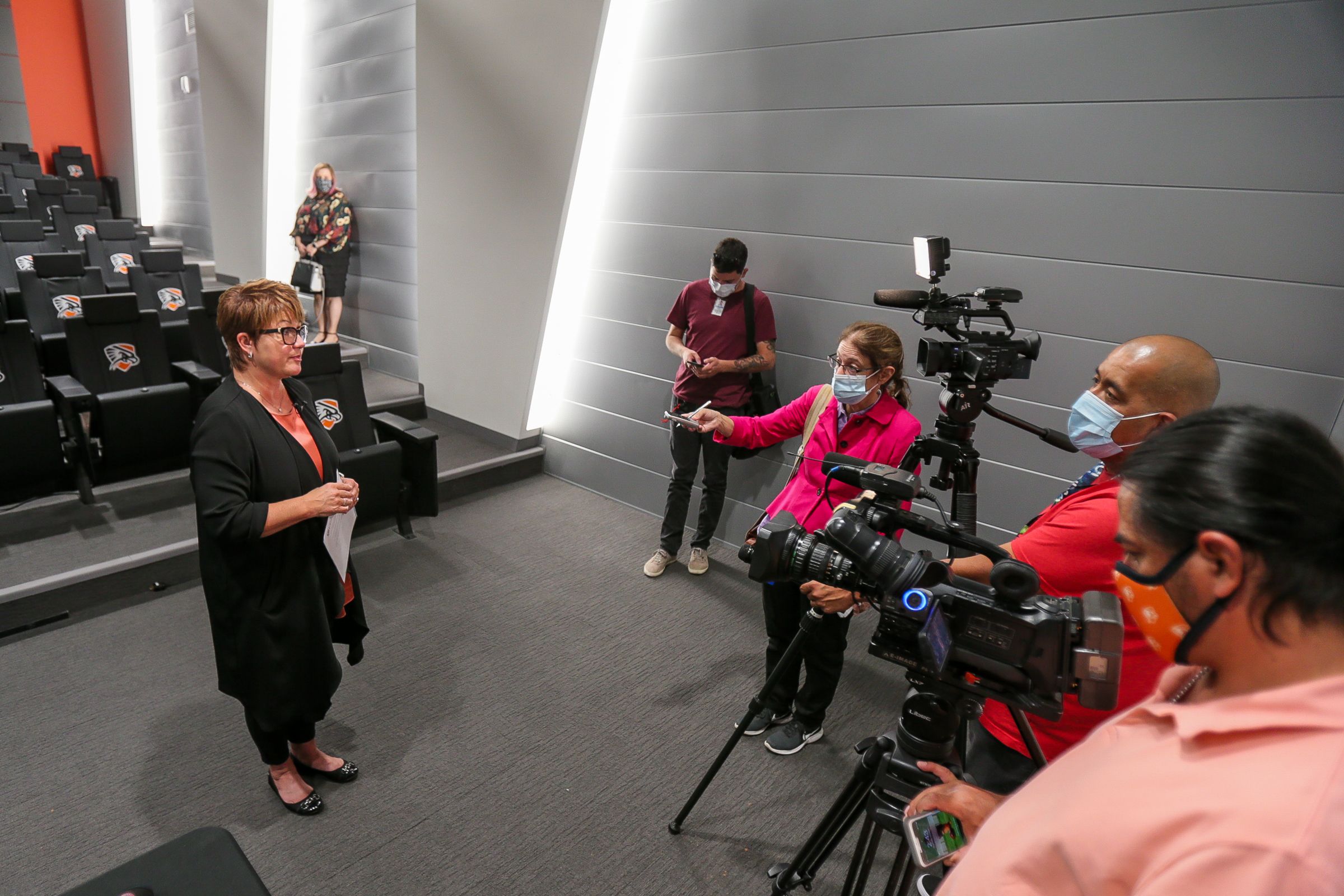 New enrollment numbers for fall 2020 are in and they show important gains. UT Permian Basin welcomed our largest ever incoming freshman class with 538 students. That's 41% higher than last fall and 14% higher than our previous record high back in 2015. 
"I am delighted to celebrate the hard work of so many dedicated people on our team," said UT Permian Basin President, Dr. Sandra Woodley. "We are on a path to double our numbers over the next decade and these milestones provide the momentum we need to achieve the ambitious goals of this University."    
Overall enrollment for fall 2020 increased 5% from 2019 with 6,063 students. Some other notable enrollment achievements include:  
Record number of new first-time graduate students pursuing a master's degree: 97 new students—54% increase; Total of 1060 masters students-- 7.7% higher than last fall

Enrollment for the two new engineering programs:  Chemical and Electrical Engineering has increased by 70%. 

Enrollment for Nursing is up 33.2%

New student enrollment for all Business programs (including graduate programs) is up 8.8%

Enrollment for all Arts and Sciences programs (including graduate programs) is up 7.5% 
UTPB has long provided a pathway to higher incomes and promising career paths for its students
In addition, a new study by renowned economist, Dr. Ray Perryman, shows just how big an impact the University has on the local economy.  A thriving University has a tremendous impact on the economic success of the region and the state. Recently Dr. Perryman, President and CEO of The Perryman Group, conducted a study to evaluate the benefits the University brings when it comes to the tax base, employment, economic development, research, and quality of life.   
According to Dr. Perryman, "UTPB has long provided a pathway to higher incomes and promising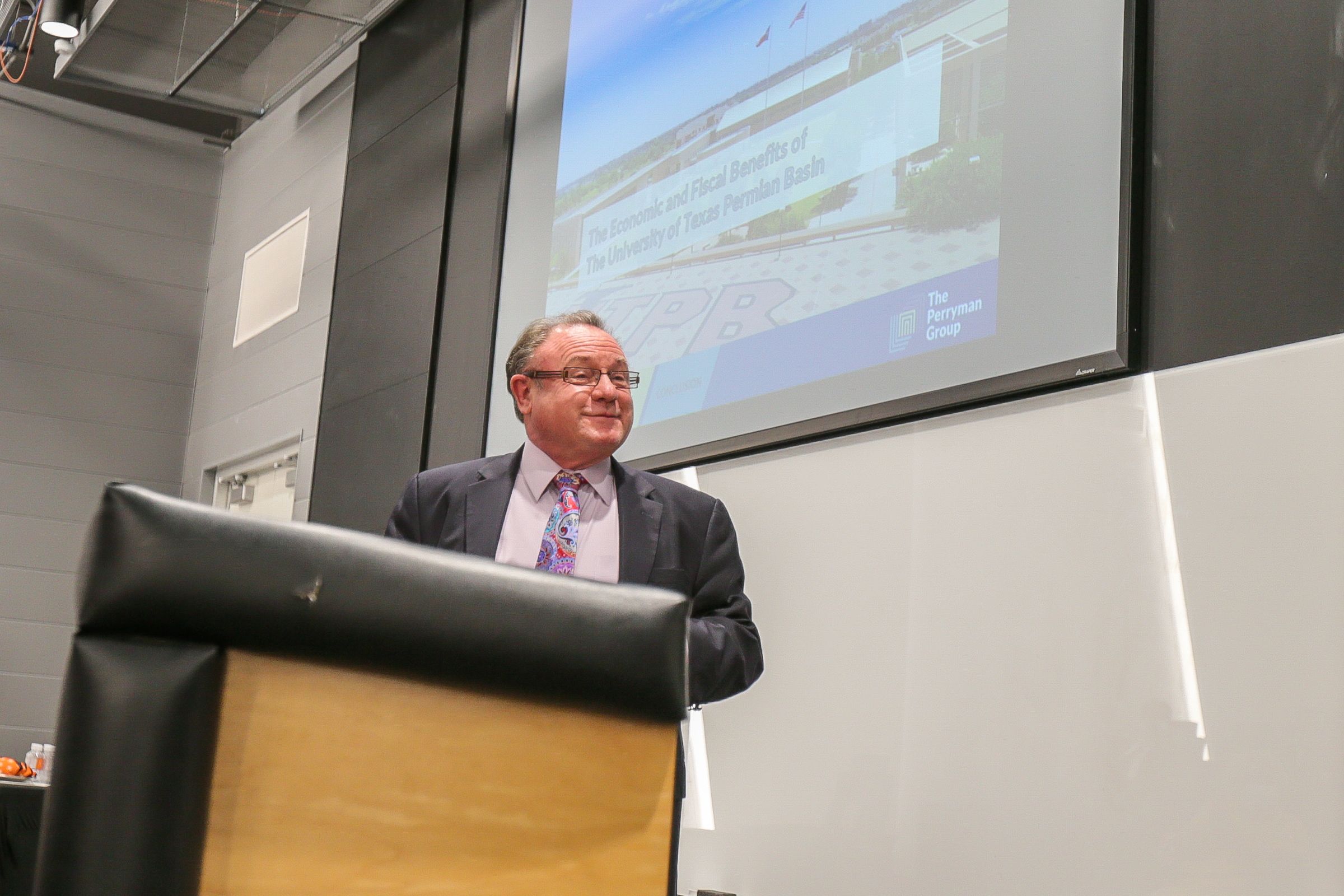 career paths for its students and crucial workforce training to support local employers, but its reach extends well beyond these traditional benefits. The Permian Basin lies at the epicenter of the global energy market and will play an increasingly important role in supporting prosperity around the world in the coming decades. The convergence of numerous phenomena has created unique opportunities for the region to emerge as a leader in several critical technologies. Through its educational, research, and economic development initiatives, UTPB will continue to be and indispensable catalyst in assuring that the Permian Basin achieves its full potential as an area of strategic international significance."   
Here are some highlights of the impact study:  
The total annual economic impact to the Permian Basin including University operations, student and visitor spending is estimated to be:

$333.7 million in total expenditures

$177.5 million in gross product each year

2,551 jobs in the Permian Basin

 

Research at UT Permian Basin leads to notable gains in business activity, and many graduates of the University remain to work in the area, positively impactingthe labor force and generating substantial economic activity.

 

Recent and ongoing construction projects generate another $28.9 million to the State; $7.9 million to local entities in the Odessa area; $4.2 million to local government entities in the Midland area; and $14.6 million to local entities in the Permian Basin region.

UT Permian Basin provides crucial education to support the petroleum sector and economic development efforts. The University improves quality of life for students and other area residents, enhances success of local businesses, and improves the outlook and potential for the region.