Graduating from college is a huge accomplishment for anyone, but Romeo Ramirez had to overcome more challenges than most
Romeo Ramirez, better known as "Mr. UTPB" earned his bachelor's degree in criminology in fall 2020. If you've been on campus, there's no doubt you've seen Romeo a time or two. He's bursting with University pride! From his orange and black wheelchair to the big foam finger that flies above him, you can't miss him! But surprisingly, those aren't the reasons he's known as "Mr. UTPB." 
"I was given the title of Mr. UTPB by a former classmate after I came back with a UTPB logo tattoo," said recent graduate, Romeo Ramirez. 
Yup, you read that right. Romeo loves being a Falcon so much he tattooed the University's logo on his arm. Which, turns out, isn't a requirement to attend school here (we called the admission office to confirm!) but it certainly is a great conversation starter.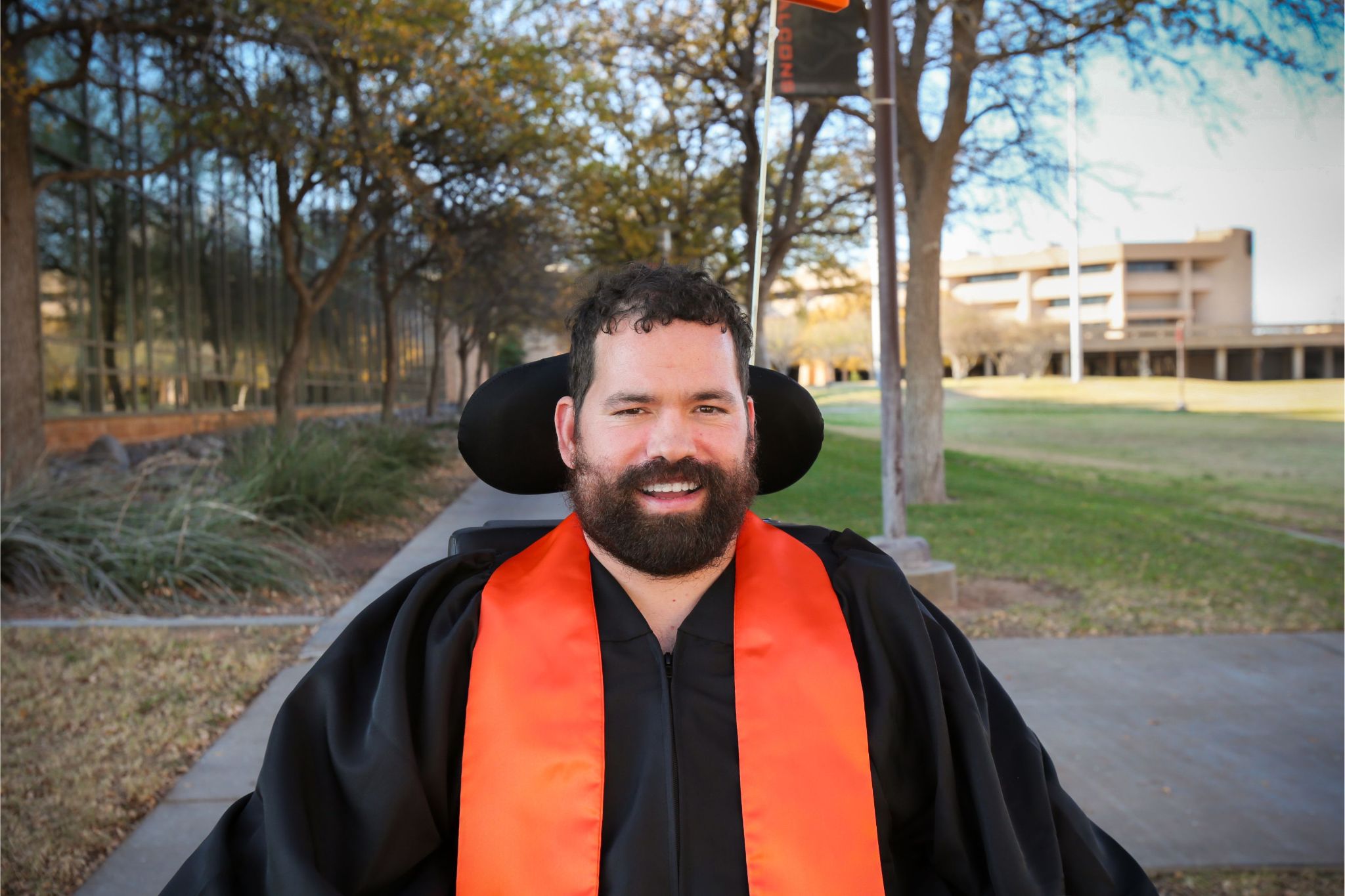 Graduating from college is a huge accomplishment for anyone, but Romeo had to overcome more challenges than most. He's been wheelchair bound his entire life after being born with Cerebral Palsy.  
"I had my umbilical cord wrapped around my neck for 10 minutes at birth. By the time they got it unwrapped, it was too late to restore oxygen to the right side of my brain, so that's why I am in a chair."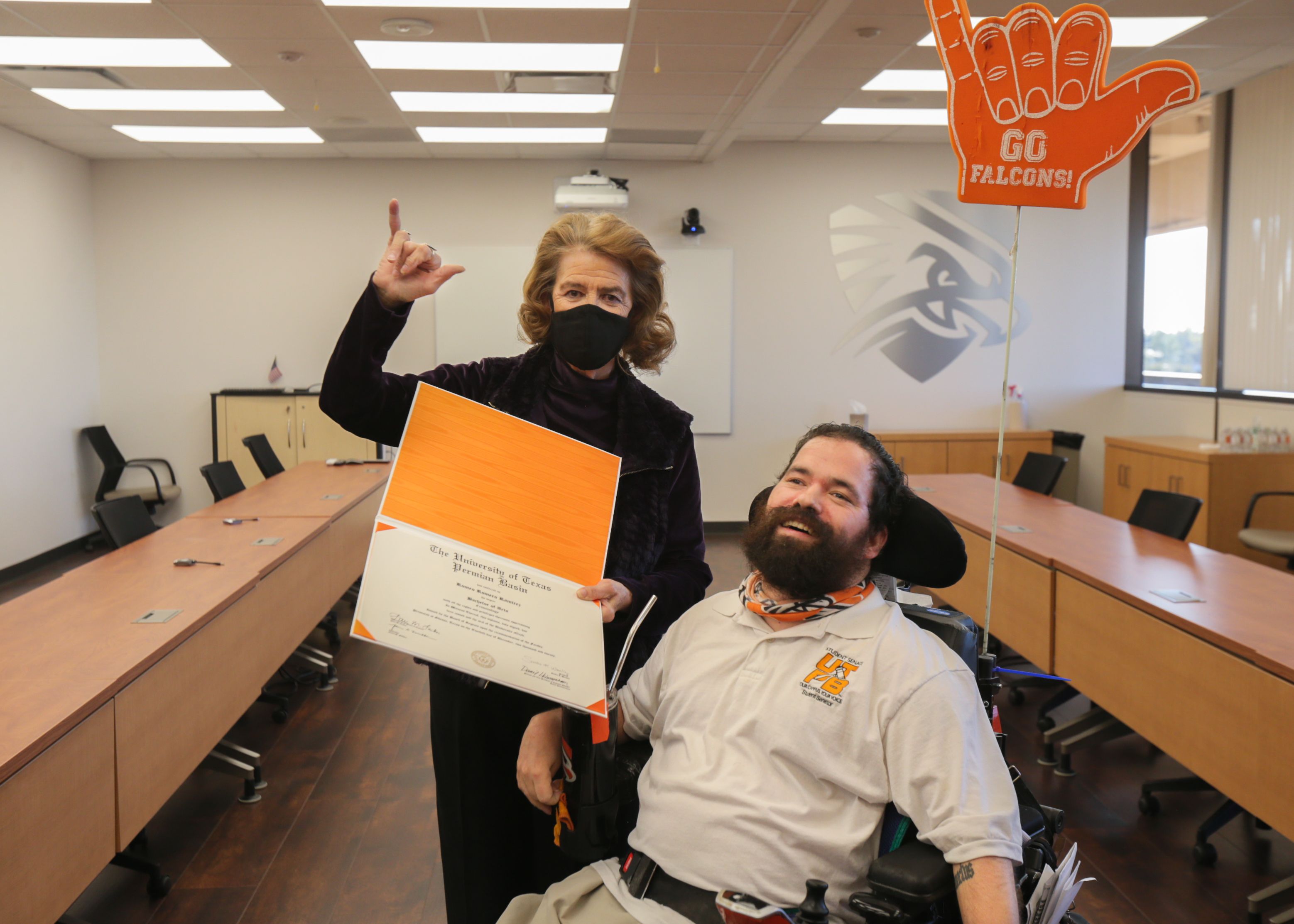 When it was time to choose where he should attend college, UT Permian Basin was a natural fit and actually, becoming a Falcon has been a lifelong dream. 
"I started being fascinated with UTPB growing up because my grandmother went to school here. I guess you can say it's in my genes."  
And nothing was going to stop him from following in his grandmothers' footsteps. In the beginning, as Romeo explained, just making it to campus was an adventure.  
"When I first started, I was living in a nursing home traveling a mile and a half to and from the University in my chair in all kinds of weather. I would drive my wheelchair on busy streets!" 
But all of the roadblocks and challenges have been worth it. Romeo says UT Permian Basin truly is home, and his favorite thing about the University is simple: people treat him like a real person. 
"The people here, my classmates and faculty and staff, don't see the wheelchair. They see the person in the chair. They just see me." 
Romeo went on to say it still hasn't sunk in that he earned his degree. Due to COVID-19, UT Permian Basin's fall 2020 commencement ceremony was moved to May 2021, so Romeo has not had the chance to go across the stage yet. Criminology professor, Dr. Richard Kiekbusch wanted to do something special for Romeo before that though. On Thursday, January 7, 2021 a small, private ceremony was held for Romeo on campus. Dr. Kiekbusch presented Romeo's diploma to him!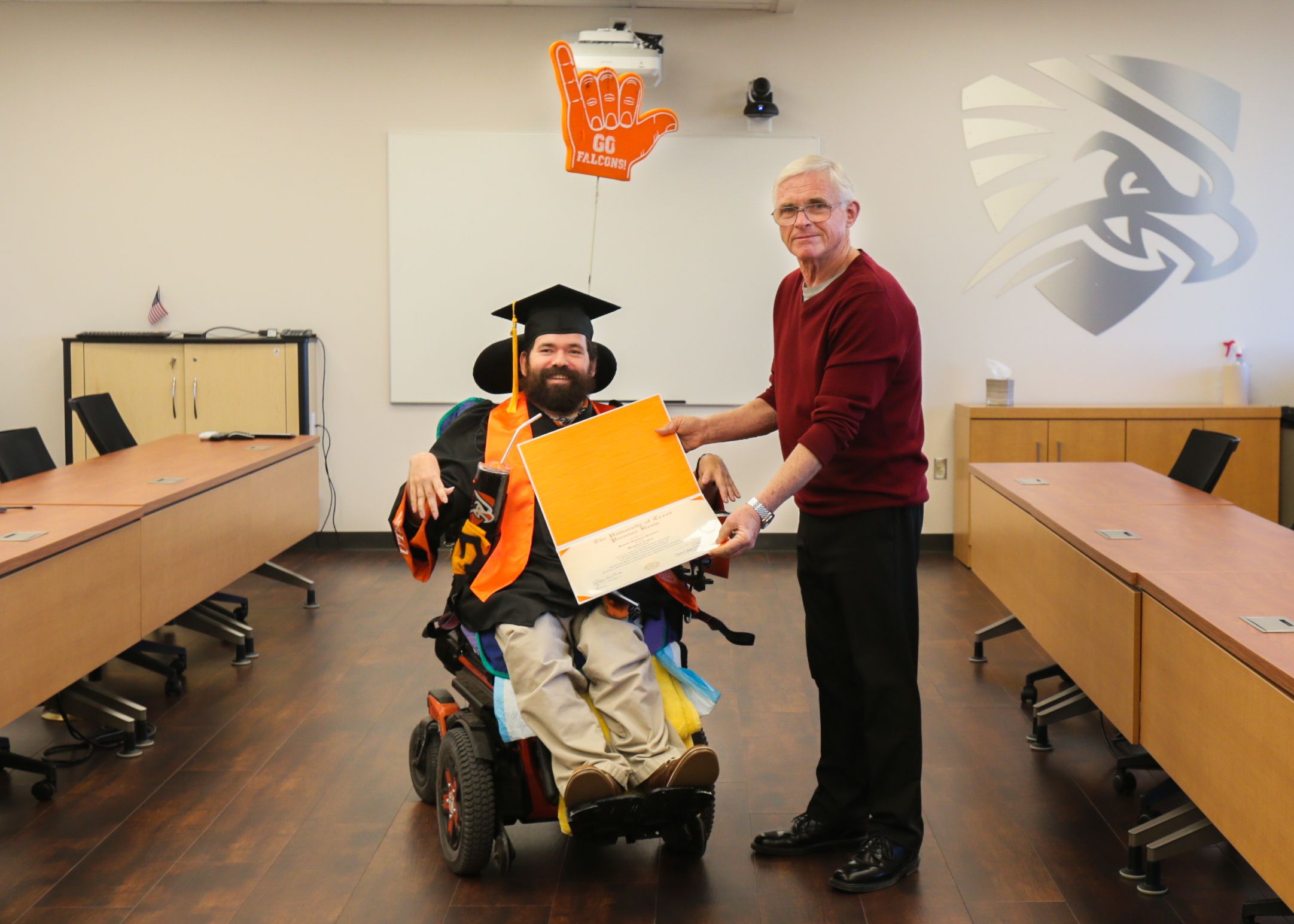 So what is next for Romeo? Turns out, he's not going anywhere. He's currently working to get into the criminology graduate program. As for other future students who might have challenges, Romeo's best advice is - don't give up. 
"Don't let other people deter you from what you're doing no matter what physical or mental challenges you may have."