More than 270 people donated to the campaign
The University of Texas Permian Basin is proud to share the results of Falcon Giving Day 2021! The 24-hour online giving campaign was a huge success for the University.
More than 270 people donated to the campaign across 18 different states. The total number of funds raised amounted to $267,796.00. Falcon Giving Day had a 21% increase in participation from last year, and a 35% increase in giving!
 "We are proud of our Falcon Family for coming together to support UT Permian Basin. We are blown away by the love and support," said UTPB Annual Giving Coordinator, Danielle Davila.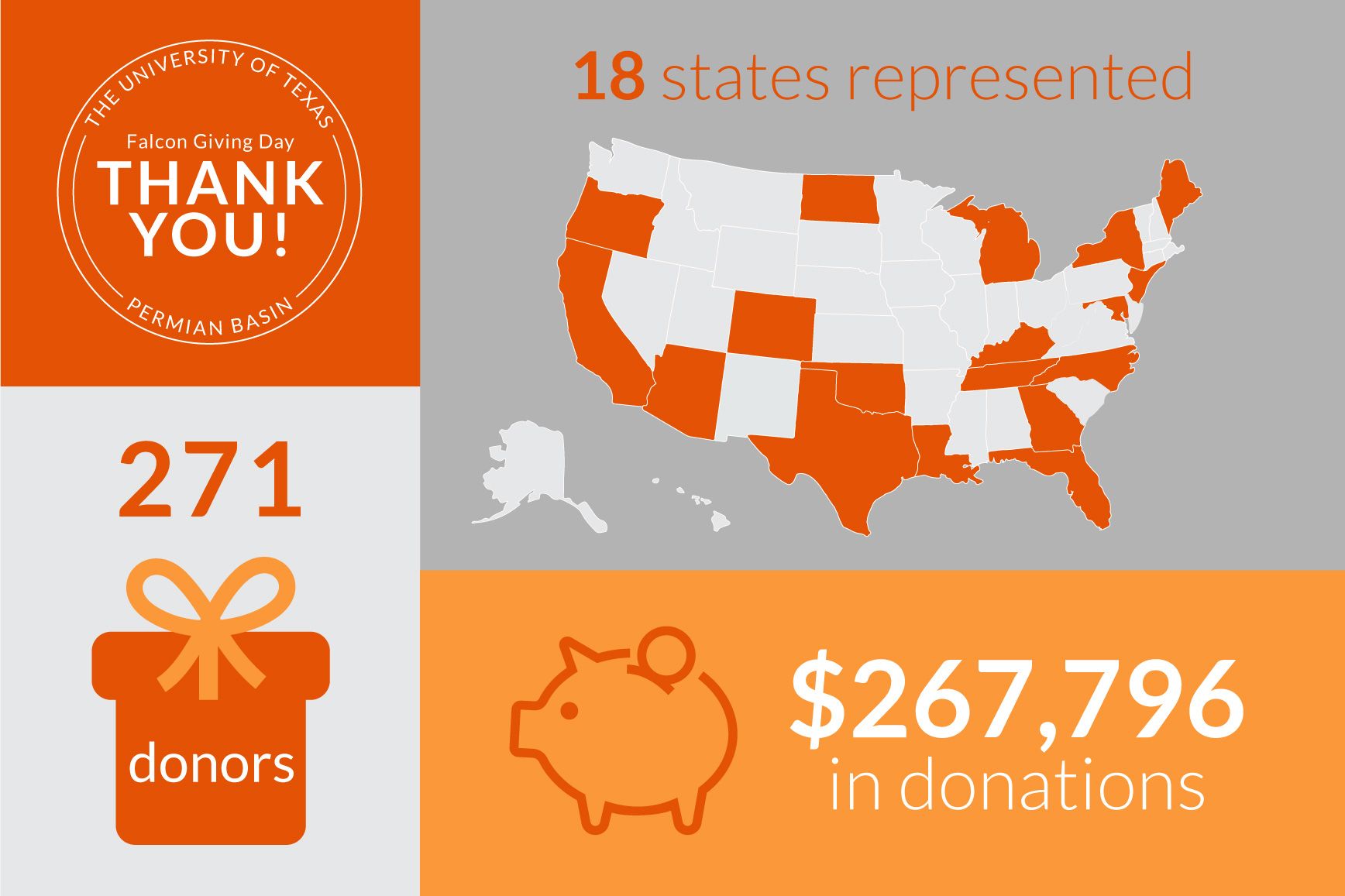 "Thank you to everyone who participated in Falcon Giving Day," said Director of Development, Casey Carson. "Our goal was to encourage support for the wonderful things happening at UT Permian Basin. A special thanks to the students who participated and will be volunteering around the community as their way of giving back."
Donations were given to more than 25 areas and departments across campus. A few highlights are:
UTPB Food Pantry
Student Emergency Fund
General Scholarship Fund
Accounting, Art, Business, Athletics, History and Nursing Scholarships
Athletics
UTPB Enhancement Fund
"We are humbled by the generosity of our Falcon family. Thank you to each individual that gave of their time, talent and treasure to make the day a success. Every gift allows us to advance our mission," said Vice President of Advancement, Wendell Snodgrass.
The University would like to express our thanks to everyone who donated funds or their time to help make Falcon Giving Day a success. To give to UT Permian Basin, visit utpb.edu/give.