Jacob Bon said because of generous donors he is able to earn his degree from UTPB.
Jacob Bon is a senior, first generation student at UT Permian Basin. He was born in Laredo, Texas, but moved around several times in his elementary years.

"My family found ourselves in League City, Texas when I was in 6th grade, and we moved to Kemah, Texas, right next door, over the summer of my sophomore year of high school," Bon said. "So, I consider Kemah and that whole area in general to be my home."

After graduating from high school in 2018, Bon started his search for a university that fit his needs. He found a university that did that, and more.

"My sister graduated from UTPB in 2012 and highly recommended I consider it," Bon said. "After some research, I found that UTPB has an amazing community and social environment for its students. There is also a great financial support system through the Financial Aid office."

Bon said his decision to attend UTPB is one he will never regret.

"I love my classes, my professors are great, and I'm truly happy when I am at UTPB," Bon said. "I think it revolves around one central theme — community. The University as a whole really cares about its students and does its best to listen to the issues we face and solve them. They are always attempting to improve the quality of life for each student at UTPB."

During his time at the University, Bon has been involved in several organizations on campus. He is the president of the Coalition of Organized Gaming and serves as chair of the Financial Affairs Committee for the UTPB Student Government Association.

Bon said he is particularly proud of a project he worked on through the Student Government Association.

"I am leading a project attempting to get a discount/deal program for all current students and Falcon Alumni Network (FAN) members with businesses in our area, which we call the Falcon Friendly Discount Program," Bon said. "It's our general purpose within the SGA to represent the student body to the Faculty and Staff."
Bon is now a senior and set to graduate with his bachelor's degree in criminology and a minor in communications, this May. Bon said receiving a donor-funded scholarships played a huge part in making his college experience great.
"When I found out I received scholarships, I felt a combination of relief and gratefulness," Bon said. "Receiving a donor-funded scholarship helps me worry less about my finances and focus on my classes, rather than having to ensure the next payment is lined up to cover every cost."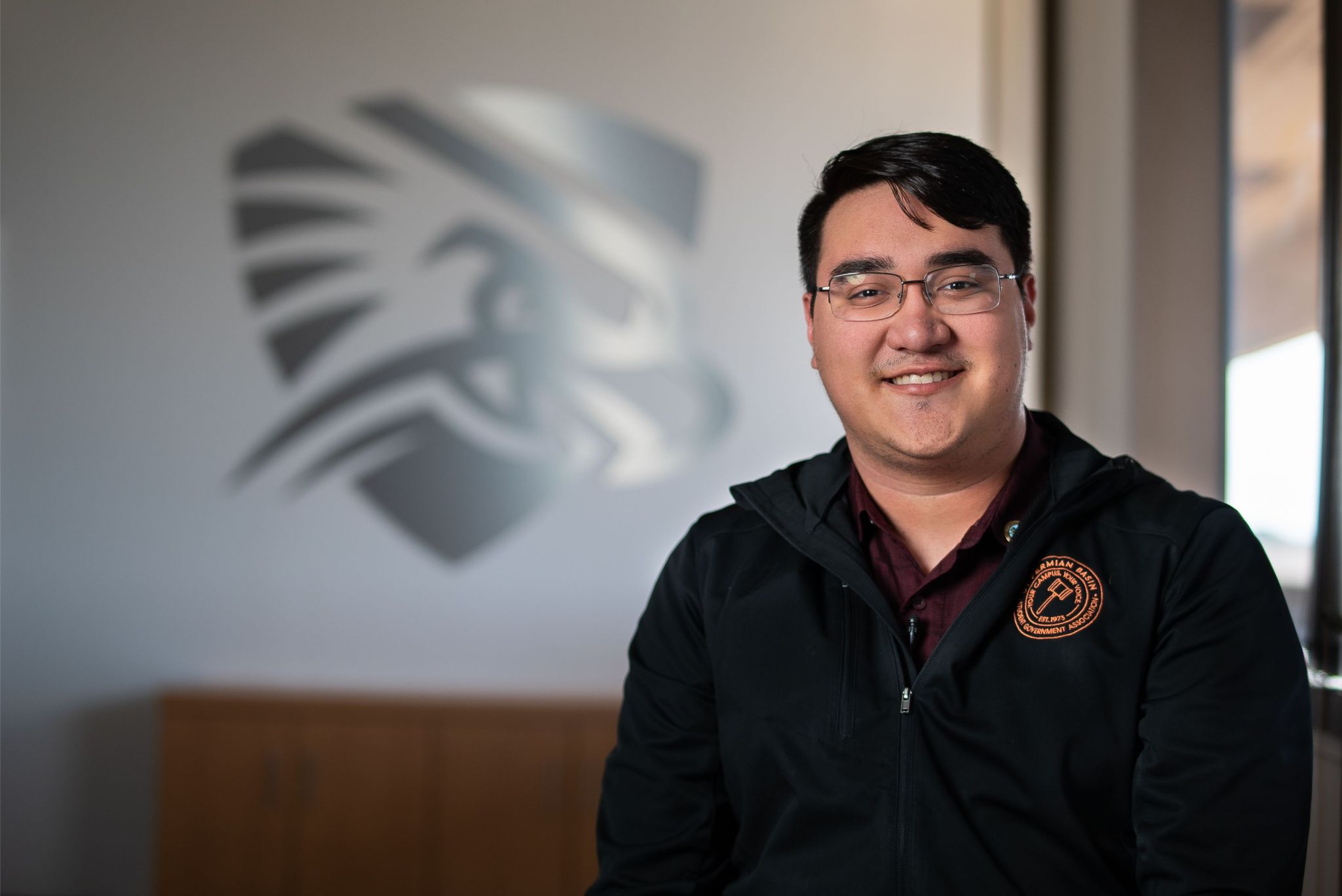 Bon said it is motivating to know there are people who care about his success and his future.
"Without this scholarship I would find myself in financial trouble, or more debt, as I try to take out loans to cover the costs," Bon said. "This scholarship means that my hard work and time here is appreciated, encouraged, and supported. It tells me my post-graduation goals are believed in."
Bon's post-graduation goals are nothing short of inspiring.
"After graduation I want to work at a firm, or a DA's office as a Paralegal or Legal Secretary until I am financially capable of going to law school." Bon said. "I wish to work as an attorney and eventually become a judge. I am aiming to become an attorney or judge in a high-profile environment like the Texas Court of Criminal Appeals or even reaching the federal level with the U.S. Court of Appeals if I could be so ambitious."
Bon said he would encourage everyone to give to the University, because it gives him the opportunity to do so in the future.
"By donating to UTPB, you allow a number of students opportunities for their education that some might never have expected to come by," Bon said. "It helps students more than you can imagine. Thank you. Your charitable kindness is received, welcomed, and I expect to pay it forward one day."