Jenny Rodela said her nursing professors have given her the tools and confidence she needs
UTPB nursing student, Jenny Rodela, took the skills she's learning in the classroom to the real world – saving a life in the process.   
Recently, Jenny was working what seemed to be a normal shift in the Beauty Department at HEB. But things took an unexpected turn when she and a co-worker went to the back of the store and found another employee unconscious on the ground. 
"I looked over my shoulder and realized there was a ladder laying on the ground," Jenny said. "I had to look twice before realizing that next to the ladder there was a person laying on the floor. I reacted quickly and went up to the employee who was lying on the floor. The very first thing I noticed was that the man was unconscious, and his skin was purple. I knew these were signs that he was not receiving the correct amount of oxygen. I began to contact the managers of the store and also check for a pulse. There wasn't a pulse, so I immediately called 911." 
UTPB will definitely prepare you for any career choice you make.
Jenny said when the managers arrived, they asked if anyone knew CPR. That's when she stepped in and started performing CPR.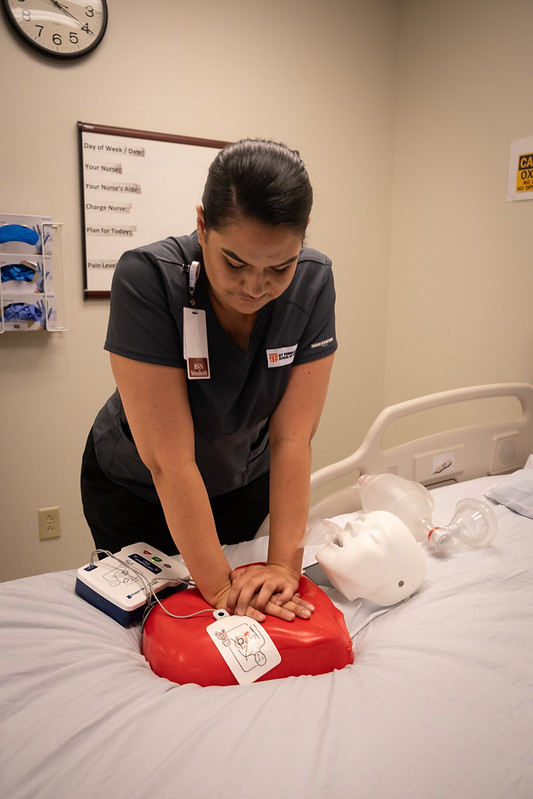 "I was very nervous as it was my very first time doing it without any supervision by nursing instructors. I knew I was doing it correctly because the chest cracked. My professors taught us that in real life, a patient's chest has to crack in order to know that the compressions are deep enough. A couple of minutes passed, and then the paramedics arrived and took over CPR." 
Managers later told Jenny that emergency crews indicated that the person who started CPR saved his life. 
"Knowing that I played an important role that day made me feel like I was going into the right career path." 
Jenny said she's always known that nursing was her calling. 
"I love to help people. Helping people has always been a part of me." 
She went on to say, she's thankful for how her professors at UTPB have prepared her to take her skills learned in the classroom into real-life scenarios.  
"UTPB will definitely prepare you in any career choice you make. The dedication that professors and staff have to see their students thrive is amazing. Becoming a Falcon is the best choice I have made. I thank all of my professors for preparing me to have a successful career as a nurse."