The Distinguished Lecture happened on Tuesday, September 26, 2023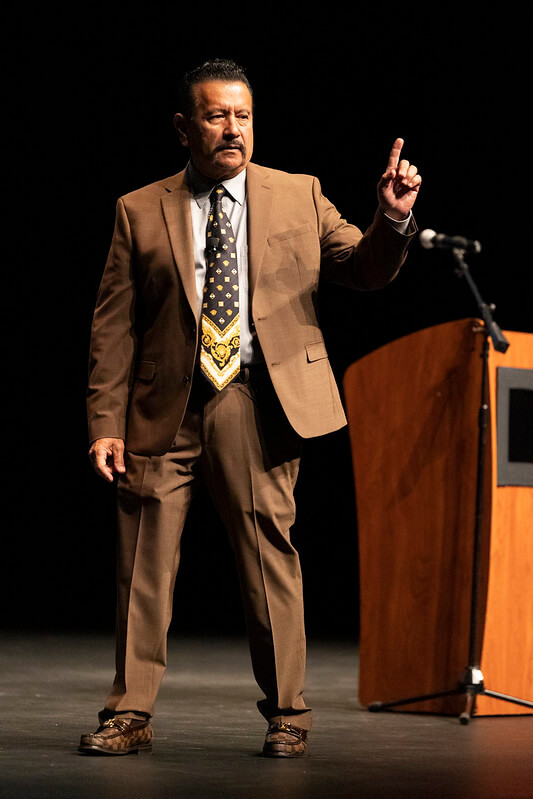 Richard Montañez, the visionary behind Flamin' Hot Cheetos and former PepsiCo executive, delivered an inspirational keynote address at the Distinguished Lecture Series held at the Wagner Noël Performing Arts Center. Speaking to an audience of over 600 attendees, Montañez delved deep into his personal journey, underscoring the theme, "One Revelation Will Lead to a Revolution."  
Drawing parallels from his own life, where a simple idea while working as a janitor transformed into a multi-million-dollar product for PepsiCo, Montañez highlighted the power of revelation. He emphasized how one moment of clarity, inspiration, or realization can be the catalyst for monumental change not only in an individual's life but also on a larger platform in society.  
Montañez was on hand to speak to student leaders from The University of Texas Permian Basin prior to the lecture. Richard emphasized the importance of harnessing and embracing your unique culture likening every individual's culture to their "personal superpower," used to educate and influence others.  

Some key takeaways from Montañez's speech included:  
Richard recounted his early days, detailing how despite lacking a formal education, he believed in his vision and ability to make a difference. This belief was the foundation upon which the Flamin' Hot Cheetos empire was built.  
Montañez encouraged attendees to question the norm and dare to think differently. "Innovation," he stated, "often comes from the most unexpected places."  
He stressed the importance of taking initiative. "Ideas are just dreams until they're acted upon," Montañez remarked, recounting how he took the bold step to pitch his idea to the company's executives.  
The audience, a mix of professionals, students, and community members, hung on to every word.  
Feedback from attendees was overwhelmingly positive, with many expressing how Montañez's talk had given them newfound confidence and inspiration. Kaylie Banda, a young professional, commented, "Richard Montañez's story is humbling and inspiring. He showed [the audience] that always taking pride in what you do is not only the right thing to do, but doing so will take you far in life." Banda explained that Montañez's thematic emphasis of revelations deeply connected with her, as she believed it did with many others in attendance.   
The evening ended with a standing ovation for Montañez, a testament to the transformational mark his speech left on the attendees.  
The Distinguished Lecture Series continues to bring to the forefront voices that inspire, challenge, and engage. Stay tuned for announcements regarding future speakers and events.