Don't Stick to Sports: The American Athlete's Fight against Injustice is Dr. Catsam's fifth book
Congratulations to UT Permian Basin History Professor, Dr. Derek Catsam, on publishing his latest book: Don't Stick to Sports: The American Athlete's Fight against Injustice.  
In his book, Dr. Catsam uncovers how athletes have fought for inclusion and equity on and off the playing field.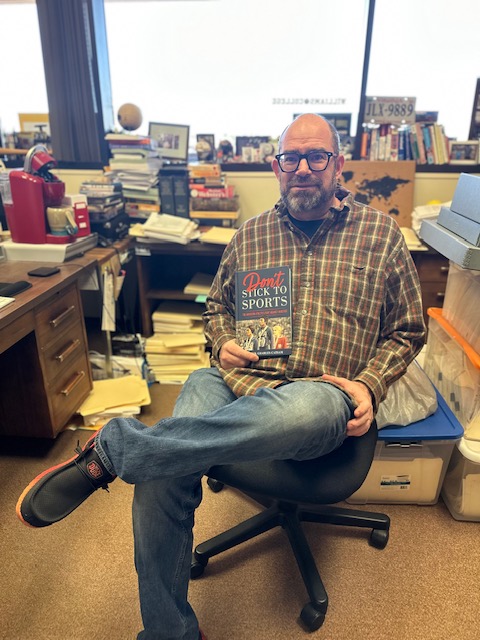 This is Catsam's fifth published book, and the idea was born during negations for his previous book. "When my agent was negotiating the deal for my last book (Flashpoint: How a Little-Known Sporting Event Fueled America's Anti-Apartheid Movement) the publisher inquired about whether I'd be interested in writing a book on American sports and politics and sweetened the offer for the first book to get me to write the second one. I had lots of ideas I wanted to pursue, and I knew I'd eventually do a book on US sports and politics, so the timing worked."  
Dr. Catsam arrived at UTPB in July 2004, so he's approaching 20 years at the University! He wears many hats as a Professor of History and Kathlyn Cosper Dunagan Professor in the Humanities. He's also a Senior Research Associate at Rhodes University in South Africa.   
Catsam shared that he believes prospective students should choose UTPB because of how great our campus community is.  
"There are so many reasons to choose UTPB but at the top of the list are the faculty and staff. We have deeply committed scholar-teachers who translate their expertise and experience into the classroom, and they are deeply committed to their students. So many of our faculty are well-known statewide, nationally, and even internationally and yet their passion for teaching our students here is unsurpassed. And our staff provides incredible support for everything we do here. In a lot of ways, even as we grow, we balance the best of a small institution with the best of a larger one. It's really a quite special place."   
Don't Stick to Sports: The American Athlete's Fight against Injustice is available for purchase just about anywhere online, but Catsam hopes you'll consider purchasing from Bookshop.org because it supports independent book sellers.  


Check out other books written by Catsam:  
Bleeding Red:  Red Sox Fan's Diary of the 2004 Season

 

Freedom's Main Line: The Journey of Reconciliation and the Freedom Rides

 

Beyond the Pitch: The Spirit, Culture, and Politics of Brazil's 2014 World Cup

 

Flashpoint

, which looked at the 1981 Springbok tour to the US, and now 

Don't Stick to Sports