Athletics at The University of Texas Permian Basin (UTPB) has come a long way in 50 years.
Athletics at The University of Texas Permian Basin (UTPB) has come a long way in 50 years.
UTPB athletics first arrived on the scene in 1973 with the formation of the club rugby team who represented UTPB. UTPB was originally the Chargers – colors being blue and yellow – before changing to the Falcons we know today.
In 1976, women's tennis would be the next sport to represent UTPB and even offered scholarships to their athletes.
Three years later that program would become UTPB's first sponsored intercollegiate sport tennis, which was coached by Virginia Brown. On May 10, 1980, Odessa's very own Sandy Collins, graduated from UTPB with a bachelor's degree in physical education and a few months later - June to be exact – made her third trip to the prestigious Wimbledon matches and competed as a pro.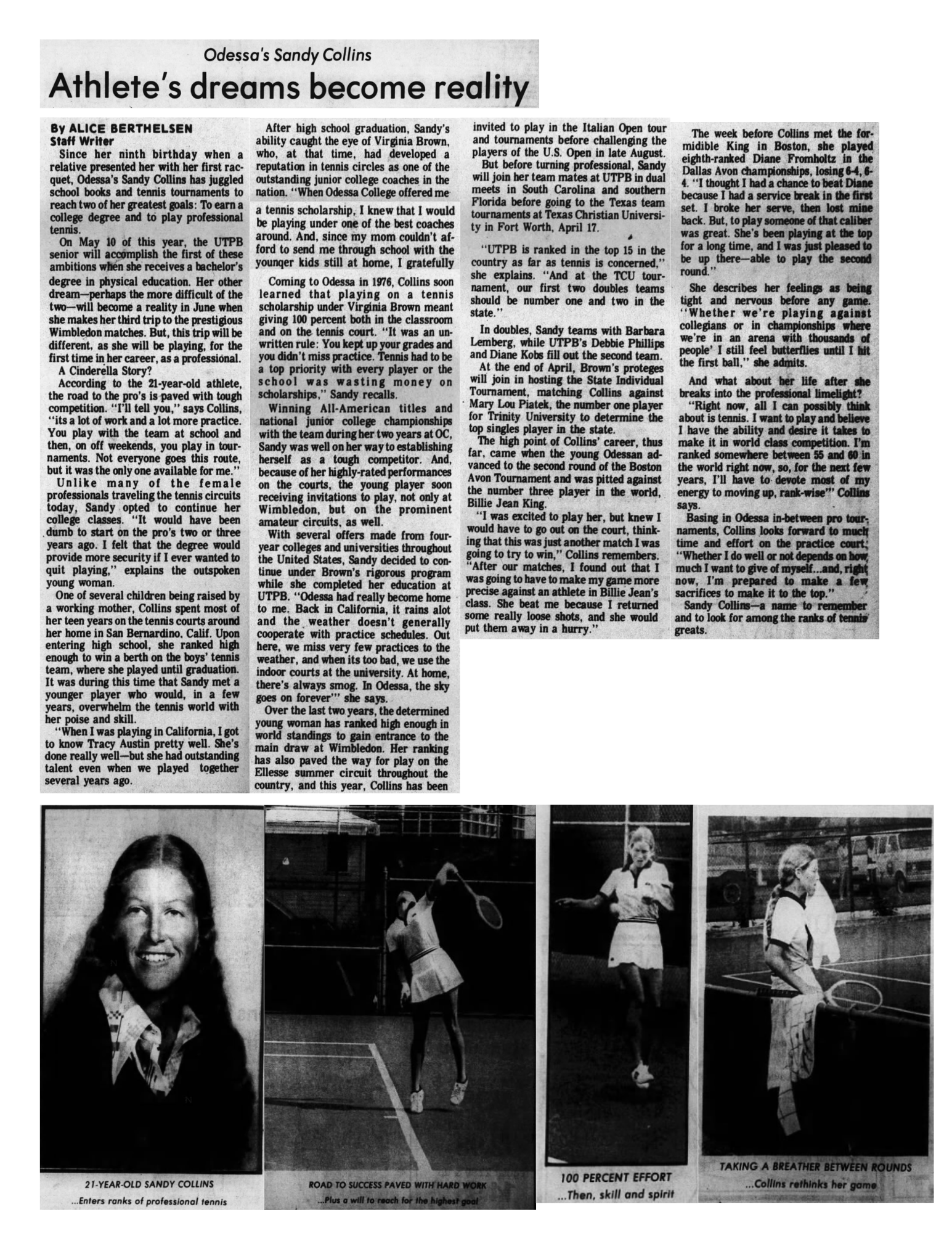 During the nine-year stint that Brown was the head coach of the program, it was very common to see UTPB soaring to the top in the NAIA conference, as they were considered one of the top teams regionally and nationally.
Despite the success of the program, it was dropped in 1988.
Things would start to getting brighter for UTPB athletics in 1991 when the Texas State Legislature authorized UTPB to offer freshman and sophomore classes – UTPB previously only offering upper-level courses.
The addition of freshman and sophomore classes made it easier for long-term sustainability for UTPB athletics. The UTPB President at the time, Charles Sorber, formed a committee to assess the impact of an athletics program at UTPB. 
After the recommendation of the committee and a student vote, the creation of the UTPB Athletics department was authorized in the fall of 1993.

In 1995, Dr. Steve Aicinena was named the first Director of Athletics in school history and also served as the club Volleyball coach starting in 1994.  That year UTPB joined the NAIA.
Volleyball was UTPB's first NAIA program in 1995 with Men's Soccer achieving intercollegiate status in the fall of 1996. Softball became a sponsored sport in 1997, with Kelly McMahan serving as its first head coach.

A budget increase brought about the addition of Women's Soccer, Men's Basketball and Women's Basketball in the early 2000s. 
UTPB continued to expand with additional budget increases over the next few years. Which brought men's and women's cross country along with men's and women's swimming which were added in 2004. Baseball followed in 2005.
 The athletics department continued to grow, adding Football along with Men's and Women's Golf for the 2016-17 year.