Roy Garcia earned bachelor degrees in both finance and energy land management from UTPB
Recent UT Permian Basin graduate Roy Garcia first found himself at UTPB in 2017 working toward a bachelor's degree in finance. He walked the stage in 2019 only to find himself back on campus working toward a new bachelor's degree in energy land management after losing his job during the COVID-19 pandemic.
"I wanted to better understand the aspects of land management. I felt that this new program could greatly benefit my career as a landman," Garcia said. "I began my career as a field landman in Midland in the summer of 2019. I continued to work until April of 2020, but when the pandemic shut down our economy for months on end, I was out of a job. I continued to look for work without any luck, so I decided to go back to school. This was the best decision I could have made because I was able to get an internship which has now become my full-time job!"
Roy currently works as an in-house landman for Latigo Petroleum, an oil and gas operator in Odessa.
"My daily tasks include analyzing oil and gas leases, joint operating agreements, researching mineral and leasehold ownership, and assisting with the preparation of sale of assets," Garcia said.
Latigo Petroleum is owned by a longtime University friend and supporter, Kirk Edwards.
It feels great to be one of the first to graduate from this program. We are the pioneers for future students who want to pursue a career in land management.
 "After inquiring into UTPB's ability to find me, different interns, they put me in contact with Roy Garcia, as we here at Latigo Petroleum needed help in our land department due to our growth over the last few years," said Kirk Edwards, Latigo Petroleum President. "Roy came in and did a phenomenal job of juggling his college work with the needs of our land department. After graduating, we wanted Roy to be a permanent part of our Latigo team, so we brought him on full-time. He continues to be a key part of our Land Department and diligently works every day to learn even more and make us better at the same time. Quite admirable."
Roy is one of the first students to earn his bachelor's degree in Energy Land Management from UT Permian Basin. This new program was added to the College of Business in fall 2020.
The Energy Land Management program prepares students for negotiating drilling leases for landowners and energy firms. The program also provides additional production management coursework. The operational focus helps UTPB graduates succeed right here in the Permian Basin.
 "UT Permian Basin's College of Business is dedicated to collaborating with this community and the industry that drives the economy of West Texas," said Dr. Steve Beach, Dean of the College of Business. "We are proud to deliver another degree program that helps prepare future leaders for the Permian Basin and beyond. The support and advice we received from the AAPL (American Association of Professional Landmen) and PBLA (Permian Basin Landmen's Association) were instrumental in making this program possible."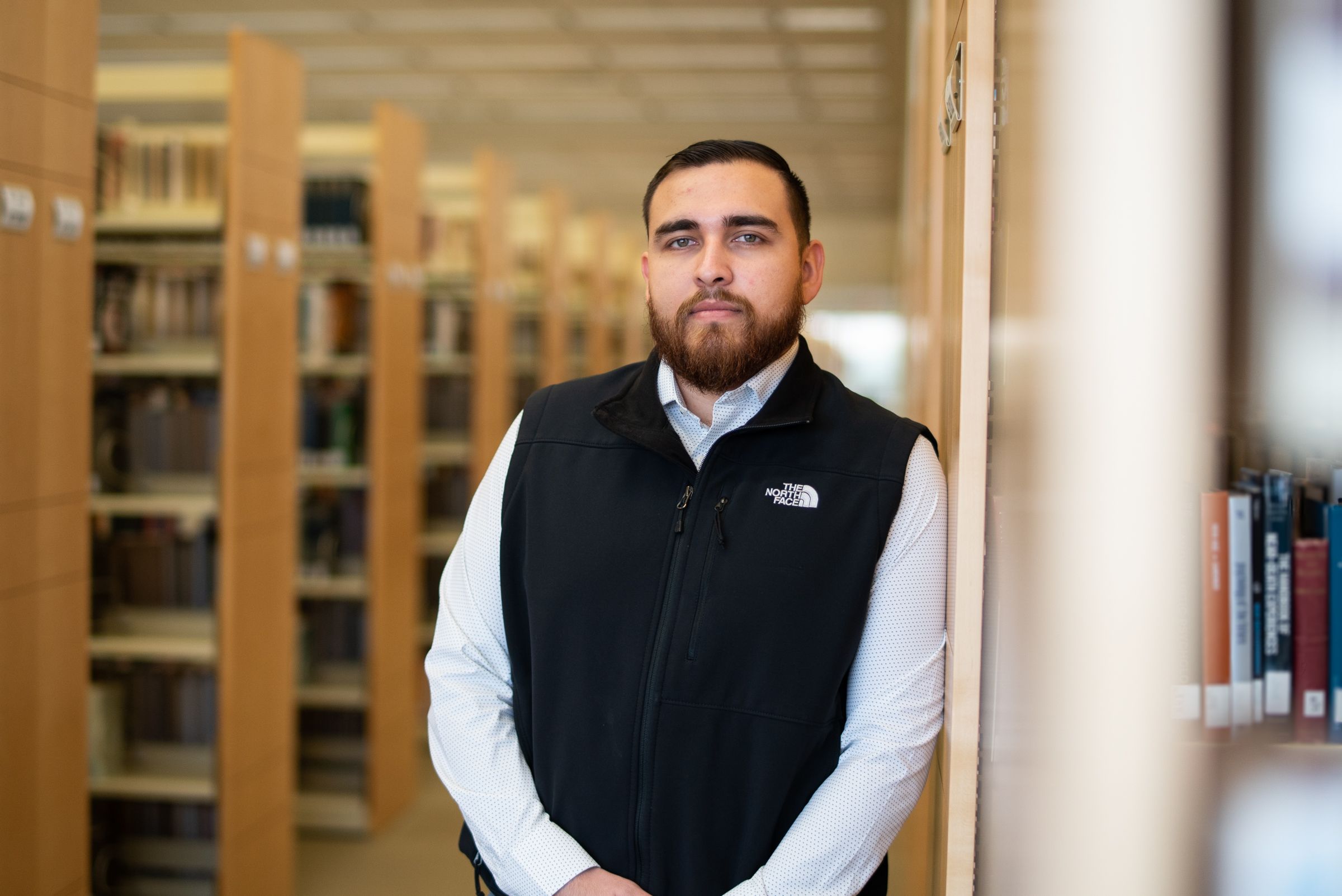 "It feels great to be one of the first to graduate from this program," Garcia added. "We are the pioneers for future students who want to pursue a career in land management. We can help to create a better program for future graduates and promote the land management degree here at UTPB. There are some people out there who do not understand the landman role and this program can introduce them to this career and possibly spark an interest in many people to pursue a career in land management."
Roy credits his success to the great faculty at UT Permian Basin, adding their knowledge and expertise made him feel prepared after graduation. He also said the affordability made it possible for him to graduate debt-free.
"My favorite thing about UTPB was the lower cost of the courses and the curriculum being offered so close to home. It made more sense for me to stay local than to have student loan debt by going to a different institution. Another great thing about UTPB is the various scholarships they offer. They make it very easy to apply and receive funds."