The HSI-STEM grant offers support to students in STEM majors to achieve their educational goals. The grant began in October 2022 and will continue to September of 2026.
Meet Irene Perry, the latest recipient of the President's Teaching Award and faculty member of the UTPB biology department. Last semester, Irene and a couple of her students received funding through the HSI-STEM grant to complete a research project on digitizing the UTPB herbarium.
The purpose of this project was to capture high resolution images of the plants and databasing the details that pertained to each specimen. The digitization of the herbarium allows other scientists access to the information remotely and it reduces the possibility of the specimens to be damaged. The two students that worked on this project were Jaqueline Barrera and Analiza Rayos who are both majoring in Biology with a pre-professional track. Both students are in their third year at UTPB.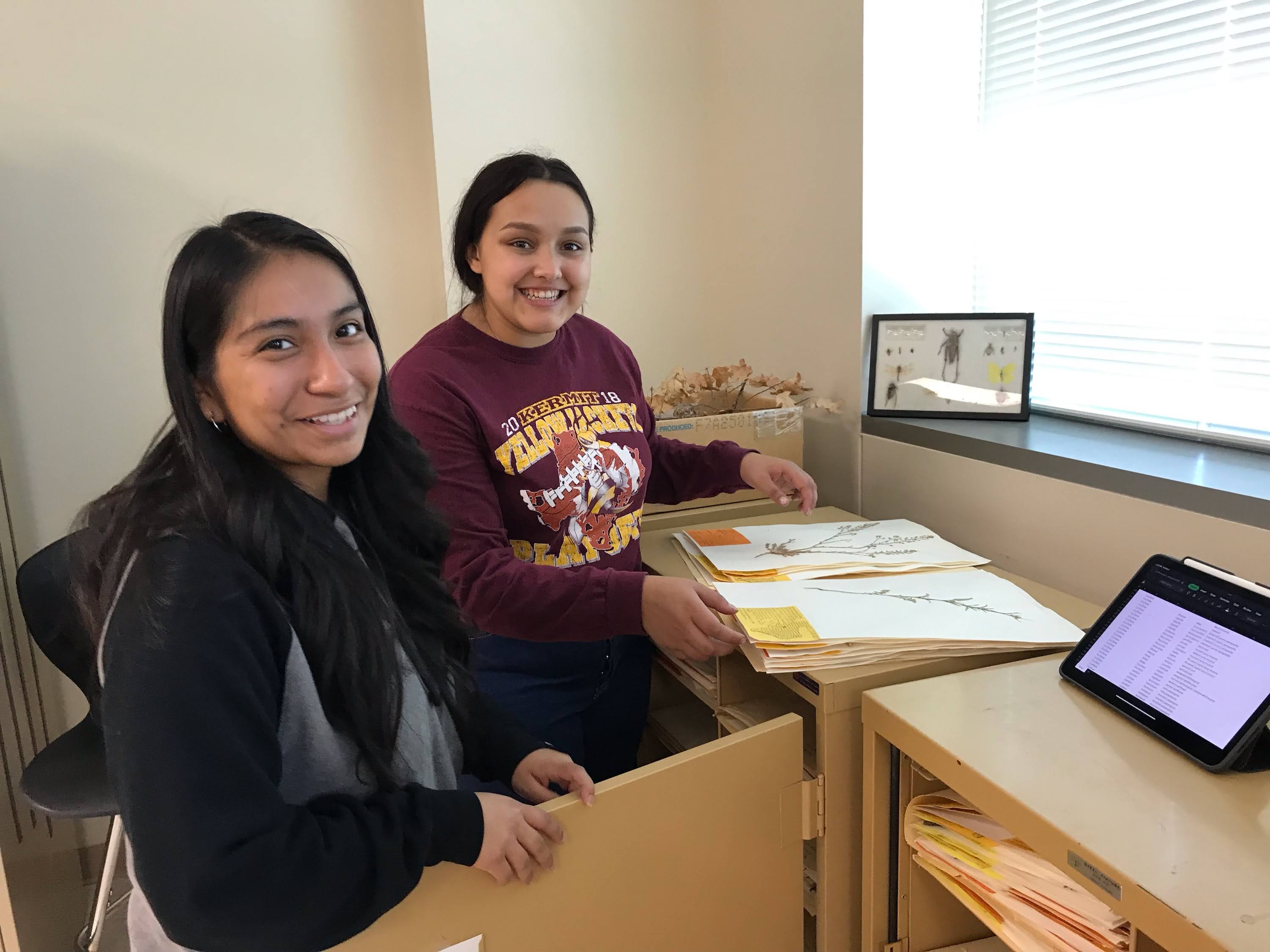 Analiza Rayos is from the small town of Kermit, TX. She chose UTPB because it allowed her to stay close to home, she also couldn't pass up on its affordability. Jaqueline Barrera is from Houston, TX. She also chose UTPB because of its affordability.
"I applied to UTPB with my future in mind. UTPB wants each student to be successful and offers many amazing opportunities from being affordable to having many resources available. I feel with professors and staff's encouragement and guidance I am ready for tomorrow's challenges," said Jaqueline.
Both Jaqueline and Analiza are hoping to enhance their research skills and knowledge. This research project taught them database management, digitizing, and how to analyze scholarly articles.
Jaqueline's future career goals are to continue her education by going to graduate school and becoming a lead research scientist. Analiza's hopes are to become a veterinarian and open her own clinic in the Permian Basin.
"Analiza Rayos and Jaqueline Barrera are wonderful students to work with on the HSI-STEM funded project. I am so glad to have this opportunity supported by Dr. Omar Beg, Dr. Raj, and Dr. Doug Spence," said Perry. "The longtime curator of the UTPB herbarium has been so helpful and encouraging with the digitization project. Dr. Spence has maintained and continued the initial decades of work by Dr. Kurtz, founding UTPB Biology faculty member. Also, the ITS department's Curtis Rogers, Georgia Bahm, and Scott Vesely have been invaluable with their technical expertise."
Perry has been working full-time at UT Permian Basin since 2002 as a lecturer in Biology. She received her B.A. in Biology from Texas A&M University and a M.S. in Plant Physiology. Perry chose biology as a career choice due to her love of nature, plants, and being outdoors. She shares her love of the subject through the teaching of courses such as general biology and ecology.
During her time here, Perry has been very involved in different projects including serving on the sustainability committee, advising the Coalition of Organized Gaming (COG), and volunteering with the local and regional science and engineering fairs. Perry serves as president of the STEM Academy advisory board and recently started serving on the Odessa Arts board.
"I enjoy being involved in the community in areas that are important to me: science, education, arts, and literacy."
In her free time Perry enjoys to read, walk, bike, and explore. Her favorite thing about UTPB is the small class size and collegiality of her STEM faculty peers.