The home opener for UTPB football is Saturday, September 2
Falcon Football is (almost) back! 
Season tickets are now available for the 2023 UTPB Football season. UTPB Football enters the 2023 season coming off its third consecutive five-win season. The Falcons will open the season at home against Texas College on September 2 with new Head Coach Kris McCullough at Astound Broadband Stadium in Midland.  
This year, UTPB is offering mobile ticketing which allows Falcon fans to access their tickets through the HomeTown Fan app. You can download the app through both the App Store and Google Play. By downloading the app, fans can also skip the line and purchase tickets in advance. The best part? General admission season tickets are just $50 and include all six UTPB home games. Games are played at Astound Broadband Stadium in Midland and Ratliff Stadium in Odessa. Be sure to check out the full game schedule and mark your calendars!  ​​​​​​​
Want to attend for FREE?
Did you know all Permian Basin students get into UTPB football games for FREE? UTPB students, OC, MC, ECISD, MISD students (plus surrounding districts) just have to present their student ID at the gate. University employees also receive a 50% discount on season tickets! 
Tailgating: What you need to know
Football and tailgating go together like stadium snacks and cheering on the Falcons! Right now, Falcon Fans can reserve a season spot at Freddyville for $50! By reserving a spot, you can park, grill, and play lawn games in Freddyville before game time.
Looking to just pass through? Everyone is welcome in Freddyville! Come and enjoy the Falcon festivities prior to kick-off including music, food, and fun for the kids.
Standard gameday parking is also available on a first come, first served basis.
Reserve today using the Hometown Fan App or visit UTPBFalcons.com.
For more information or for help with tickets, contact Quintin Zinger at 432-582-4638 or zinger_q@utpb.edu.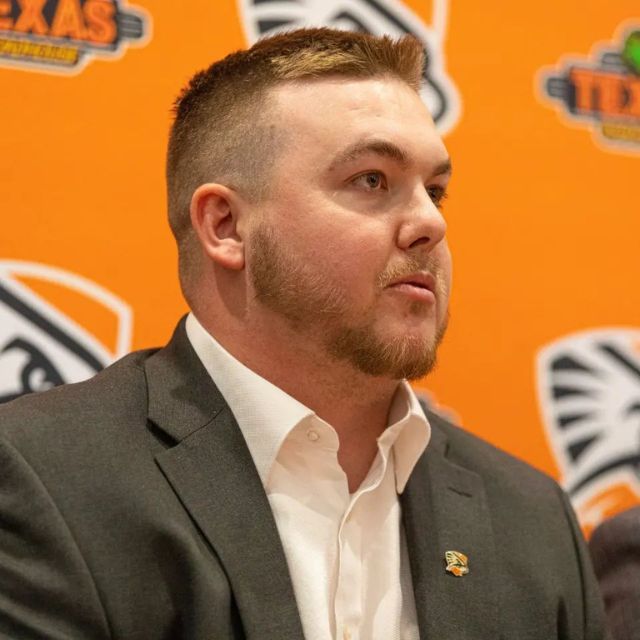 UTPB hires new Head Football Coach
One of the young rising stars in the world of Division II football is now the second head coach in UT Permian Basin Football history.
Meet Kris McCullough
Frequently Asked Questions 
Can I consume alcohol at UTPB tailgates?  

Yes, fans who are 21 and over can consume alcohol at UTPB tailgates. Fans are reminded to be responsible. Attendees can also purchase alcohol at games played at Astound Broadband Stadium in Midland. Alcohol can be consumed only at the tailgate at Ratliff Stadium in Odessa. 
How can I purchase tickets?  
Tickets can be purchased directly through the UTPB Athletics website or via the HomeTown Fan app, available for download through either the App Store or Google Play Store.
How do I access my tickets on gameday?  
There are a variety of ways to access tickets on gameday. Fans can use the HomeTown Fan app directly, transfer the tickets onto either their Apple Wallet/Google Pay or print the tickets off on paper to bring with them on gameday.  
Is there a faculty/staff discount available?  
UTPB faculty and staff are eligible for a 50% discount on football season tickets. Contact Quintin Zinger at 432-582-4638 or zinger_q@utpb.edu for more information.