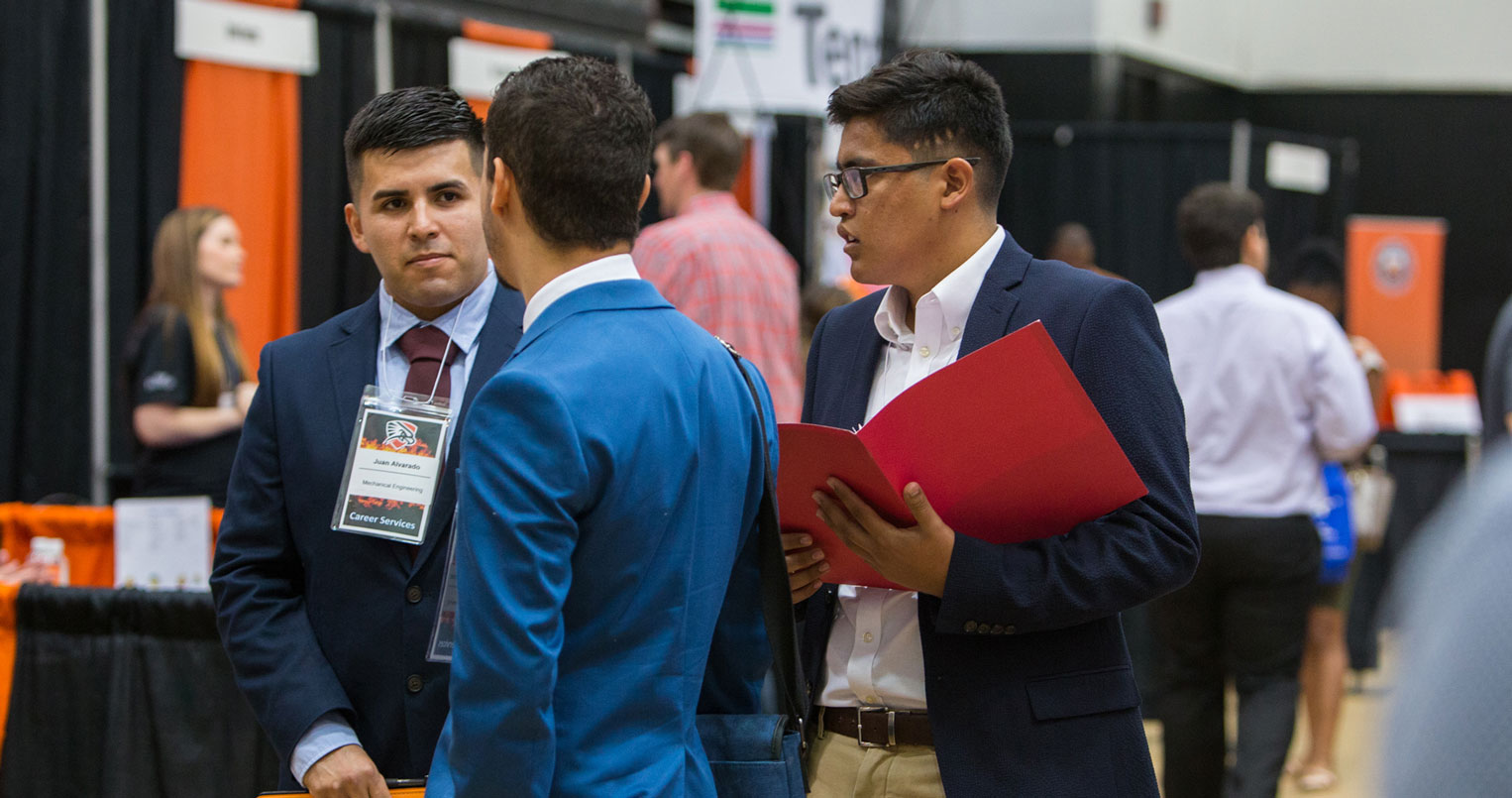 MBA Programs
Master business. Build a career. Enjoy the rewards.
The Master of Business Administration (MBA) Program at UT Permian Basin will deliver the professional knowledge, tools, and network you need to create a lucrative business career.
With a healthy mix of classroom instruction, peer-based projects, and real-world experience, you'll be confident that you can step into the corner office after graduation. We know what employers want. We make sure you have it.
At UTPB, you have the ability to make your MBA even more marketable in the workforce by adding an emphasis in accounting, finance, marketing, or energy business. A prestigious degree, from the world-renowned UT System, at an incredible value. Earn a seat at the executive table with an MBA from The University of Texas Permian Basin.
Admission Requirements
The MBA program is open to all students holding baccalaureate degrees from accredited colleges or universities and meeting the following provisions:

Satisfactory performance during the last two undergraduate years (or other evidence predicting success in graduate study).

Satisfactory score on the Graduate Management Admission Test (GMAT). Students required to take the GMAT test must do so before completion of 6 semester hours of 6300 level coursework.
GMAT
GMAT waived due to COVID-19 till August 2021
The Graduate Management Admission Test (GMAT) is a nationally recognized test designed specifically for students preparing to pursue an MBA degree.
The GMAT score is converted to an entrance score according to the following formula:
(GPA X 200) + GMAT = Entrance Score

Regular Standing: Entrance Score at least 1120

Conditional Standing: Entrance Score at least 1000 but less than 1120 and other evidence
Students granted Conditional Status will normally be changed to regular status upon successful completion of a minimum of nine (9) semester credit hours of MBA core coursework with a grade of B or better in each course taken.
No elective course may be taken by a student in conditional status.
GMAT requirement may be waived for applicants with a cumulative undergraduate GPA of 3.25 and above or a GPA of 3.25 and above in the last 60 hours in the undergraduate degree from an accredited university. Students who are granted the GMAT waiver will be required to submit two (2) letters of recommendation, at least one of which must be from an immediate supervisor or instructor that can testify to the applicant's professional experience.
Prep Courses
Upon admission, students will be evaluated for statistical literacy. Students who need additional skills in this area are referred to BUSI 2342 or MATH 6301 (statistical literacy) until literacy requirement is fulfilled.
Statistical literacy (BUSI 2342 or MATH 6301) must be remedied in the first semester in which the student is accepted into the MBA program and must be taken before the student enrolls in MNGT 6303, FINA 6320, MNGT 6361, MNGT 6366, or electives in accounting, finance, management, or marketing.
Course Policy Waiver 
ACCT 6301 6 semester credit hours of accounting, including financial and managerial with a "B" average
FINA 6320 9 semester credit hours of upper division finance with a "B" average
MNGT 6360 6 semester credit hours of upper division management with a "B" average 
MRKT 6310 9 semester credit hours of upper division marketing with a "B" average
Application Deadline
UT Permian Basin accepts applications to MBA degree programs on a rolling basis.
To provide better advising services to the students, it is strongly recommended that the application and all required documentation be submitted no later than 30 days prior to the date of enrollment. There are as many as 6 dates of enrollment for each calendar year (besides the regular spring, summer, and fall start dates).
Grades
MBA students will not be given graduate credit for courses taken when the letter grade earned is less than C. In addition, an MBA student may count no more than two C grades.
A degree candidate is required to maintain an overall average of B and maintain a GPA of 3.0 in every semester throughout his or her program of study.
Non-Degree Students in Graduate Business
Non-degree students may take up to six (6) credit hours of graduate business courses to meet certification requirements and continuing professional or personal development.
Non-degree students, however, must otherwise meet admission criteria for the Master of Business Administration or Master of Professional Accountancy program in order to take more than six credit hours of graduate business courses.
Non-degree students may register for MBA Online Courses only during late registration to give priority to degree-seeking students.