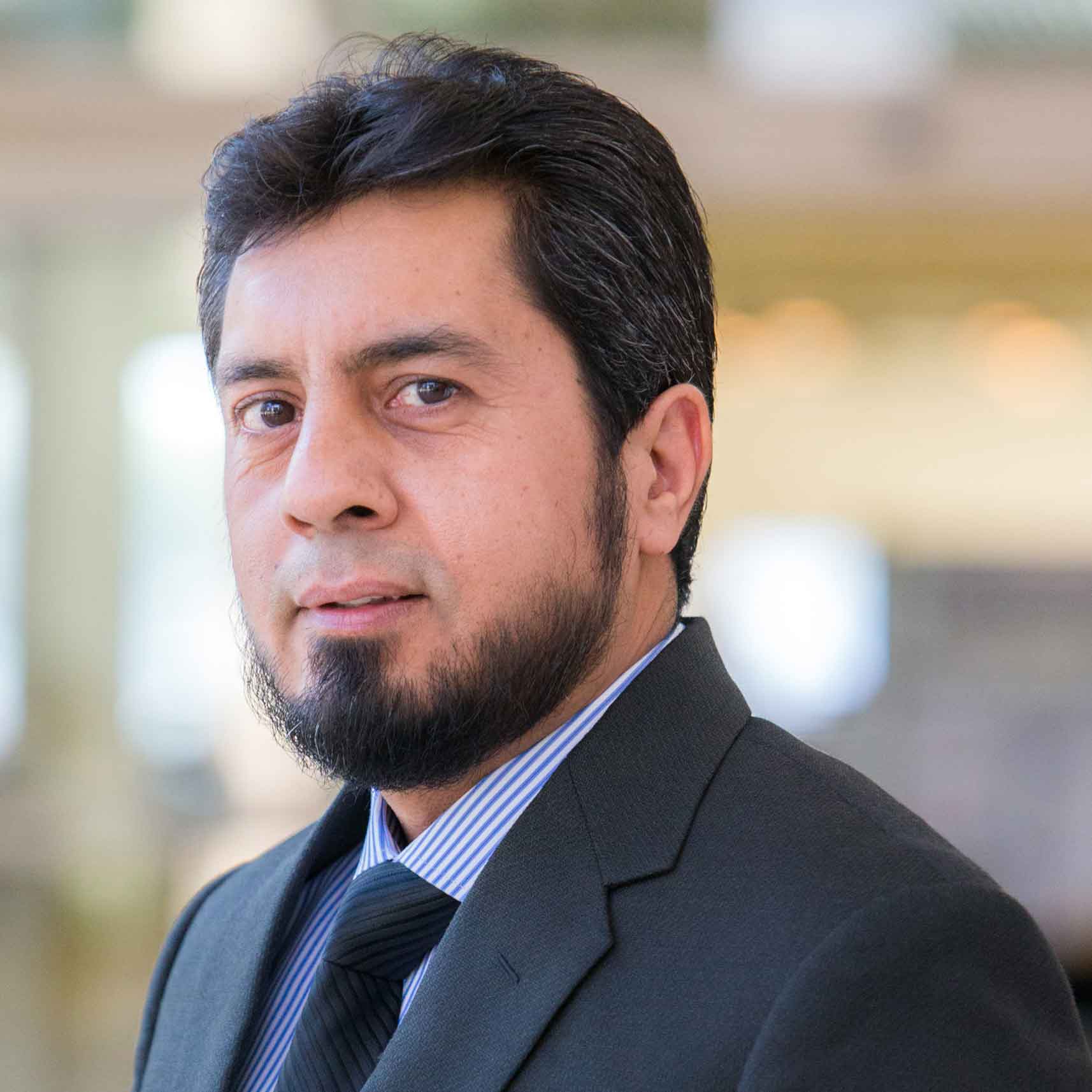 Omar Beg
Assistant Professor - Department Coordinator
College of Engineering
Department of Electrical Engineering
Go back to the College of Engineering Faculty and Staff page
Go back to the Department of Electrical Engineering Faculty and Staff page
Omar A. Beg (Baig) is an Assistant Professor in the Department of Electrical Engineering. Previously, he was with The University of Texas at Arlington as an Assistant Professor of Research where he worked on projects funded by the Office of Naval Research. He earned his Ph.D. degree in electrical engineering from the same school. He earned his Project Management Professional (PMP) certification from Project Management Institute (PMI), USA. He was a recipient of the U.S. Air Force Research Laboratory Summer Research Fellowship in 2015. He is also the recipient of the Rising STARs (Science and Technology Acquisition and Retention) grant by The University of Texas System. In addition, he has secured various grants from Department of Education, Department of Defense, and Texas Higher Education Coordinating Board as a PI amounting to about $5M. He is a senior member of IEEE.
Awards and Honors
Arlen and Betty Endowed Fellow in Engineering - 2022 to present
College of Engineering outstanding faculty in research - 2022
President's Research Award - 2022
Research Interests
Microgrids are finite-inertia power systems that integrate distributed generation to include renewable energy resources, energy storage, and loads. Such microgrids have evolved into cyber-physical systems due to complex software-based controllers, internet of things (IoT), and communication networks making them vulnerable to cyber intrusions. Omar A. Beg's multidisciplinary research aims to apply the techniques from formal methods and artificial intelligence to make such microgrids more resilient against cyber attacks and physical faults. The outcome of his research will result in intelligent techniques to ensure cyber-physical microgrids have trusted assurance despite potential emergent contingencies, attacks, and failures. His aim is to promote research and education on smart grids and resilient power systems.
Education / Certifications
Ph.D., Electrical Engineering, The University of Texas at Arlington, July 2017 Dissertation Title: Formal Verification of DC Distribution Networks
Project Management Professional (PMP) Certification from Project Management Institute (PMI), USA
Certificate in Effective College Instructions from The American Council on Education and The Association of College and University Educators, USA
Teaching
Design Methods in Electrical Engineering, Fundamentals of Circuit Analysis, Digital Circuit Design, Signals and Systems, Foundations of Electrical Engineering, Electromagnetic Fields, Electronics Circuits Lab, Control Systems, Electric Machines, Computers and Problem Solving (online)
Grants Secured
As Co-PI - Grant of $33,000 under US Army Education Outreach Program, Awarded by US Army Research Office in 2022-2023
As PI - Grant of $4.9M approved by the Department of Education (2021-2026)
As PI - Instrumentation grant of about $300,000 approved by the Department of Defense in May 2021
As PI - Support grant $112,500 for undergraduate students approved by Texas Higher Education Coordinating Board in March 2021
Summer Faculty Research Grant 2020
The Rising STARs (Science and Technology Acquisition and Retention) grant by The University of Texas System of $300,000 in 2019
Salient Publications (Please contact the faculty for detailed information)
Journal Articles:
Shan Zuo, Omar A. Beg, Ali Davoudi, and Frank L. Lewis,"Resilient Networked AC Microgrids Under Unbounded Cyber Attacks," in IEEE Transactions on Smart Grid, vol. 11, no. 5, pp. 3785-3794, Sept. 2020
Omar A. Beg, Luan Viet Nguyen, Taylor T. Johnson and Ali Davoudi, "Signal Temporal Logic-based Attack Detection in DC Microgrids," IEEE Transactions on Smart Grid, vol. 10, no. 4, pp. 3585-3595, July 2019 (link)
Omar A. Beg, Houssam Abbas, Taylor T. Johnson, and Ali Davoudi, "Model Validation of PWM DC-DC Converters," in IEEE Transactions on Industrial Electronics, vol. 64, no. 9, pp. 7049-7059, Sept. 2017
Omar A. Beg, Taylor T. Johnson, and Ali Davoudi, "Detection of False-data Injection Attacks in Cyber-Physical DC Microgrids," in IEEE Transactions on Industrial Informatics, vol. 13, no. 5, pp. 2693-2703, Oct. 2017
Stanley Bak, Omar A. Beg, Sergiy Bogomolov, Taylor T. Johnson, Luan Viet Nguyen, and Christian Schilling, "Hybrid Automata: from Verification to Implementation," International Journal on Software Tools for Technology Transfer, Springer, vol. 21, pp. 87-104, February 2019 (link)
Conference/ Workshops Proceeding Papers:
Omar A. Beg, Luan Viet Nguyen, Taylor T. Johnson and Ali Davoudi, "Computer-Aided Formal Verification of Power Electronics Circuits," Frontiers in Analog CAD, Frankfurt, Germany, 2017 (link)
Omar A. Beg, Ali Davoudi, and Taylor T. Johnson, "Reachability Analysis of Transformer-Isolated DC-DC Converters (Benchmark Proposal)," 4th International Workshop on Applied Verification for Continuous and Hybrid Systems (ARCH 2017), Co-located with the Cyber-Physical Systems Week 2017, Pittsburgh, PA, April 2017
Omar A. Beg, Ali Davoudi, and Taylor T. Johnson, "Charge Pump Phase-Locked Loops and Full Wave Rectifiers for Reachability Analysis (Benchmark Proposal)," 3rd International Workshop on Applied Verification for Continuous and Hybrid Systems (ARCH 2016), Co-located with the Cyber-Physical Systems Week, Vienna, Austria, April 2016
Research Presentations and Talks:
Omar A. Beg and Ali Davoudi, "Scalable Formal Verification of Resilient Converter-dominated MVDC Networks," in the Office of Naval Research Controls Workshop at the University of Virginia, Blacksburg, VA, 2019
Omar A. Beg, Shankar Abhinav, and Ali Davoudi, "Resilient Microgrid Control," in the Office of Naval Research Controls Workshop, Arlington, TX, 2018
Omar A. Beg, Ali Davoudi, and Taylor T. Johnson, "Detecting and Mitigating Cyber-Physical Attacks with Invariant Inference and Runtime Assurance", poster presentation at US Air Force Research Laboratory, Rome, NY, 2015
Omar A. Beg, Ali Davoudi, and Taylor T. Johnson, "Formal Verification of Software-controlled Power Electronics," in US Air Force Research Laboratory Safe and Secure Systems and Software Symposium, Dayton, OH, 2015
Omar A. Beg, Ali Davoudi, and Taylor T. Johnson, "Computer Aided Formal Verification of Power Electronics Based Cyber-physical Systems," in Formal Methods in Computer Aided Design, Austin, TX, 2015