Martin Luther King Jr. Day is on Monday, January 16, 2023
Martin Luther King Jr. Day honors and commemorates the work of Dr. King. The national holiday is celebrated on the third Monday of January every year, which is near Dr. King's birthday. 
UT Permian is honoring the significance of this day with a special book display in the library that was put together by UTPB Library Specialist, Michelle Pfalzgraf.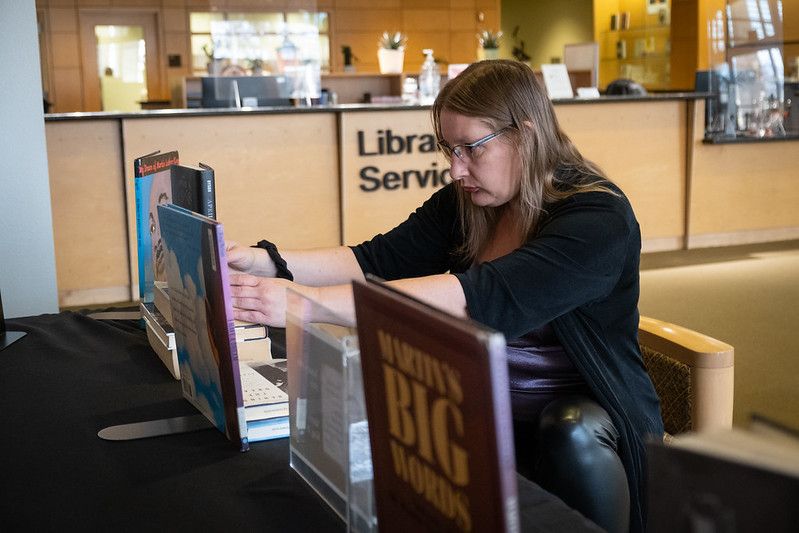 "For this year's MLK display, I wanted to include a mix of material detailing his speeches, his life, his death, his social impact on the world, and his belief in non-violent, peaceful resistance," explained Pfalzgraf. "I included approximately 20 books, some of which comprise a few youth books with beautiful portrait artwork." 
Pfalzgraf has been working at the University since September 2021 and is also a UTPB alum. When you see a book display in the library, Michelle is the woman behind it all.  
"When it comes to book displays, I try to be very inclusive and keep it diverse with a wide range of interests. I strive to find books that are not only visually appealing, but informative for scholarly research and more leisurely reading." 
For the MLK display, Pfalzgraf hopes students, faculty, and staff will take time to reflect and feel encouraged to learn more about the change Dr. King made in our country and the world. 
"My hope is that students will view the MLK display and see something that can help them in their research and assignments. I also hope this gives them an opportunity to learn more about the man who helped change the world for the better during my parents' generation. I hope faculty and staff can come look at the books and ask more about them. I'm always thrilled when books from the displays are checked out." 
We also encourage you to take time to read a blog post by UT Permian Basin professor, Clark Moreland titled: Professor King? Celebrating the Legacy of a Civil Rights Leader and Teacher.