A 2016 graduate from the University of Texas Permian Basin, Matthew earned his B.B.A. in Marketing.
Matthew Pinkney is a Falcon Success Story!  A 2016 graduate from the University of Texas Permian Basin, Matthew earned his B.B.A. in Marketing.  Just weeks after graduation, he landed a job with HEB.  He is part of the prestigious HEB School of Retail Leadership program.   Matthew was recently back on campus as a guest speaker for the UT Permian Basin Marketing Alumni Lecture Series.  We asked him to share his thoughts on how the university prepared him for his career.
Q: Update us on your current professional path.
I have been training and executing store assignments in HEB's School of Retail Leadership (SORL) for a little over a year now.  In two weeks, I will graduate from SORL to begin my role as an Operations Leader.  I plan on becoming a Center Store or Perishable Director within the next 5 years.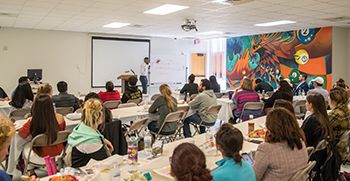 Q: What stands out about your years at UT Permian Basin?
Learning how to learn!  Devouring textbooks temporarily added to my knowledge base, but applying what I learned to either school projects or real life business scenarios augmented certain skills for life.  
Q: What opportunities did you find at the university that prepared you for your career?
Joining the business club Enactus was one of the best things that's ever happened to me.  My time in the club allowed me to collaborate with others and impact people in a positive way.  My Enactus team learned about business using a hands-on approach.  We worked with actual clients and in many cases created outreach programs that benefitted local causes.    
Q: Tell us about some of the people you encountered at UT Permian Basin who impacted your life.
I don't know where I would be If I hadn't met Professor Michael Crain.  I remember knocking on his office door for the first time.  I was hungry to succeed but pretty lost.  I truly cannot express my gratitude for his mentorship in business, education, and life.  Professor Kurt Verlei also made a big impact in my life.  His wise words even convinced me to switch my major from finance to marketing.  I also enjoyed participating Dr. Lili Gai and Dr. Anshu Saran's business classes.  Their lectures and projects were extremely engaging and beneficial.      
Q: What are some of the biggest challenges you've had to overcome and how have they shaped your life?
The biggest challenge that I had to overcome was how I spent my free time.  As a former video gamer, I used to waste countless hours staring at a TV screen.  Yes, it temporarily provided gratification, but I wasn't learning any skills that could bring value to the market? After this realization, I got rid of my gaming system and began devouring self-help books.
Q: What's your advice for students who are hoping to follow in your footsteps and begin a great career after graduation?
Once you stop and genuinely ask yourself how you can provide immense value to others, opportunities will slowly begin to compound during and after college.