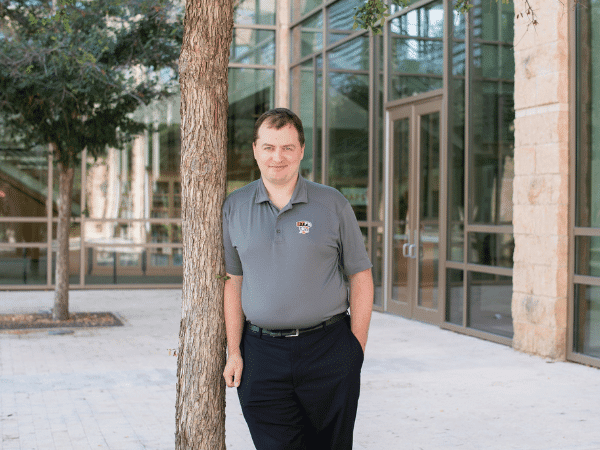 Have You Met: Timothy Feerst
Sep 30, 2021
Q1: Tell us about your educational and professional background.
I received my Bachelor's in Music Education from George Mason University, my Master's in Percussion Performance from the University of Texas at Austin, and my DMA in Percussion Performance from the University of North Texas.  I also teach percussion and drumline at Odessa College.  Prior to coming to the Permian Basin, I served on the faculties of the University of Texas at Tyler, Trinity Valley Community College, the University of Utah, and North Central Texas College.  In addition to being a teacher, I am also a regularly engaged professional musician and have played percussion with ensembles such as the Midland-Odessa Symphony and Chorale, the Amarillo Symphony, and the Dallas Winds, to name a few.
Q2. What will you be doing at UT Permian basin? 
I am serving as Interim Director of Bands at UTPB for the 2021-2022 school year and direct the percussion program as well. I direct the Spirit of the Permian Basin Marching Band, conduct the percussion ensemble, and teach classes in Applied Percussion, Percussion Techniques, Marching Band Methods, and Music Appreciation.
Q3. What do you love most about your role here?
What I love most about my role at The University is the opportunity to teach a variety of music courses and help students discover their highest potential to become the best musicians and human beings that they can be through that teaching.  I also love collaborating with members of our university and surrounding community to provide and facilitate music at concerts and events because music is something that enriches the lives of all hear it.
Q4. How can students, faculty and staff take advantage of your expertise? 
I really consider myself a facilitator. For Students, I am a facilitator of learning, meaning someone that assists them with their educational journeys (notice that I said "their" and not "my"!).  For Faculty and Staff, I am a facilitator of events; if you are interested in requesting the Drumline and/or Marching Band perform at your event, let's chat and see if we can make that happen! 
Q5: Tell us a fun fact about yourself! 
I am actually a certified scuba diver and love shark diving!  My bucket list includes traveling to Tahiti to swim with Tiger Sharks.