UT Permian Basin took an important step to filling a critical need in our community – more teachers.
The University has partnered with Odessa College to create an accelerated, career-track program for those who aspire to become a teacher. 
"We are committed to serving this region and for us that means going beyond our institution and look to create solutions to problems our region is facing," UT Permian Basin President Dr. Sandra Woodley said.
The program is called OC2UTPB – Teaching in 3. It is a three-year accelerated teacher education program designed to get more teachers into classrooms at a faster pace. Students in the program can take day, evening and in some cases, even weekend courses. They will also receive additional support and professional development.
Students enrolled in the program will take 1 ½ years of Odessa College courses, followed by 1 ½ years of UT Permian Basin courses. Certification emphasis will be in Early Childhood through 6thgrade with options for specialization. At the end of the program, students will have earned an associate of arts degree in teaching and a bachelor of arts degree in multidisciplinary studies with E-6 certification.
Dr. Woodley says this program is coming at the right time – there are over 400 teacher vacancies in Ector County ISD alone.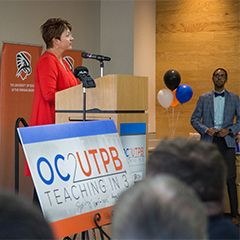 We have to find a way to address the teacher shortage, so accelerating this program in this way is extremely important to the community and it's extremely important to OC and also to UTPB. The mutual interest here is important.
She added that while this program focuses on teachers, there would be others like it coming in the future.

"We're only getting started on our ability to stoke that pipeline between OC and UTPB for students who want to get a bachelor's degree," Woodley said.