School of Nursing
It's your calling.
A nurse will often say they knew in their heart that nursing was their calling. Nursing is a challenging, yet highly-rewarding career. Your Bachelor of Science in Nursing (BSN) degree from UT Permian Basin School of Nursing prepares you for success as a valued nursing professional within an occupation that is consistently in high demand. The Baccalaureate Degree Program in Nursing at The University of Texas Permian Basin is accredited by the Commission on Collegiate Nursing Education (http://www.ccneaccreditation.org).
How to be admitted
Application to The University of Texas Permian Basin's School of Nursing is a two-step process. First, please apply to The University of Texas Permian Basin at www.utpb.edu/apply. Upon acceptance to UT Permian Basin, declare pre-nursing as your major.
Second, complete and submit the School of Nursing Application. Applications may be mailed  or physically delivered to the University. The mailing address is:

UT Permian Basin School of Nursing
Attn: Admissions Committee
4901 E. University Blvd. #MB3156
Odessa, TX 79762
If submitting the application in person, please place it in the orange drop box located at UT Permian Basin MESA Building, 3rd floor, MB 3156.
The UT Permian Basin School of Nursing Admission Criteria has changed for 2022. Candidates need to have a cumulative high school or college GPA of 2.5 or higher. If you are transferring in credits from other colleges or universities, please include transcripts from each one that you attended, UT Permian Basin. 
At this time, the TEAS test, reference letters, and essay are not required to apply to the UT Permian Basin School of Nursing.
Meet the Dean
Discover what makes the UTPB College of Health Sciences and Human Performance experience special.
Ready to join the Falcon Family?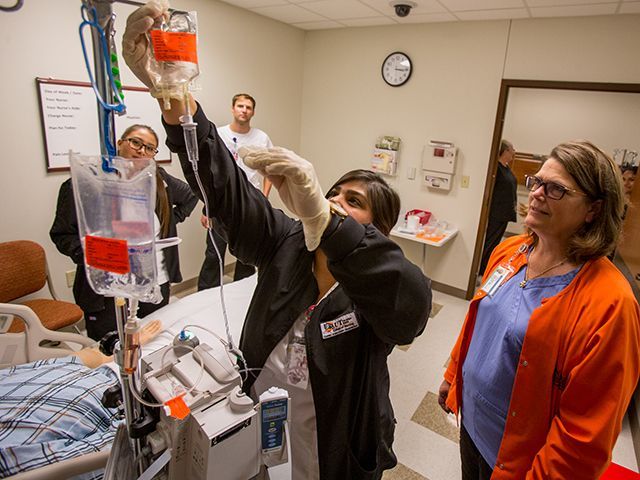 5 Factors for Choosing a Nursing School
Are you ready to begin your journey in nursing? Here are five important factors you should consider when selecting a nursing school.
The Five Factors