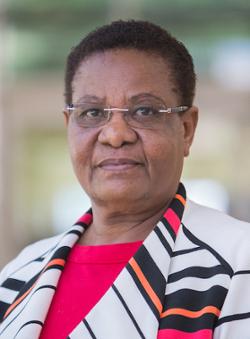 Books, catalogs, books, research material and more books! That is Dr. Sophia Kaane's world. Get ready to see improved services as she has taken over as the new Director of the J. Dunagan Library on campus. We're excited to welcome Dr. Kaane to our Falcon family and cannot wait to see (and maybe read) what's in store for the University library. Read the following Q&A to get to know Dr. Kaane and learn more about her plans for the library. 
Q1. Tell us about your educational background.
I  hold a PhD from the University of Loughborough in the UK. I have a MA in Librarianship from the University of Sheffield, also in the UK. I also have a MA in Counseling Psychology  from United States International University in Africa, based in Nairobi. I earned my bachelor's of education from the University of Nairobi in Kenya.
Q2. What will you be doing at UT Permian basin?
 As the Library Director, I am responsible for ensuring that we are providing necessary informational resources for the University's community. That includes the students, faculty, the community and any other person that is interested and has informational needs to be fulfilled. My main responsibilities are to plan and provide services that give people easy access to information that they need. I will also work to come up with new policies in collaboration with faculty and all the University stakeholders, to streamline library services that fall in line with the mission statement of the University. 
Q3. What do you love most about your role here?
When I think about my role, two things come to mind: my education and my experience. I'm knowledgeable in library and library services. I have been a library director for more than two decades – I served as library director at one institution for 18 years. So, I feel that the knowledge and experience that I've gained through that time is very relevant for me and I enjoy being an administrator. At a workshop for Women in Leadership, we took a psychology test that measure your capabilities of leadership and mine was above average which gives me a lot of joy and confidence in managing the UTPB library. I feel that I have what it takes to do that and do it well.