The Human Performance Center is expected to be ready for students by Fall 2020
Progress is being made on the D. Kirk Edwards Human Performance Center. Crews have been working to lay the foundation since breaking ground in September and just this week, the first steel beams went up. 
"It's a very exciting time for our campus," Scott Farmer, UT Permian Basin Athletic Director said. "I started receiving phone calls as soon as the first beam went up."
Farmer anticipates the steel structure of the first wing to be complete in time for football's spring game in April.
"Our vision when we planned this project was to give our students and our community something they could be proud of," Farmer said. "Our athletes deserve a facility like this. We expect the best from them in practice and at game-time. They should expect the same from us and our resources."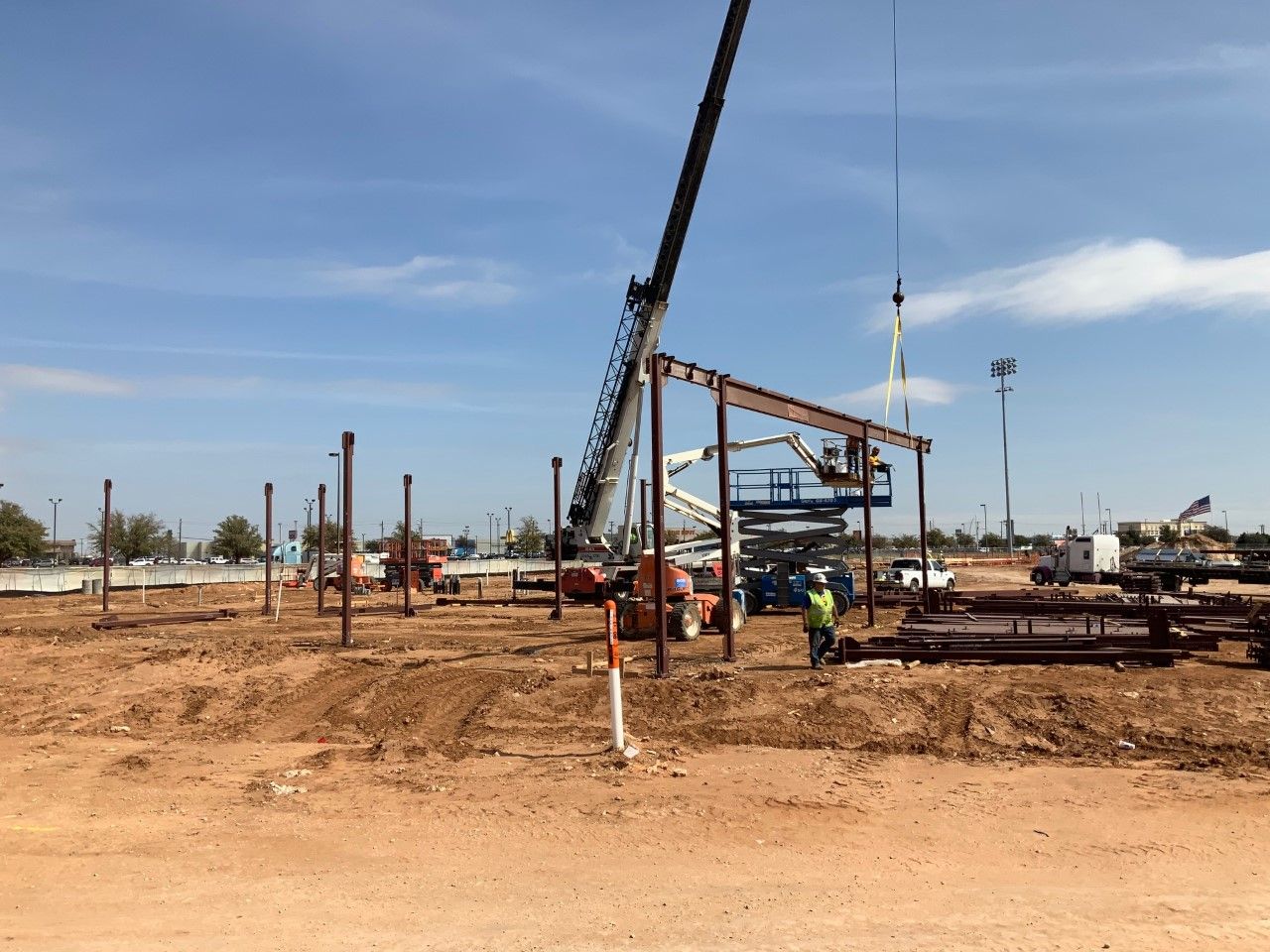 Farmer says the condition of facilities has become a large factor when student-athletes are deciding where they want to go to school. In fact, 91-percent of student-athletes say they based their decision solely on the 'look and feel' of athletic facilities.
The athletic wing will serve as the hub for student-athletes with facilities needed to accommodate the thriving athletic program.
"Spaces like an equipment room, men's and women's locker rooms, team meeting areas, coaches' offices and strength training facilities will not only give student-athletes the resources to be successful, but it will set us apart from other institutions," Farmer said.
The locker-rooms will certainly meet that criteria. The football locker room will boast 380 inches of TV screens for coaches to play and replay action from games and practices. Athletes will be able to charge any and all tech devices at their lockers – those are equipped with individual power stations.
The academic wing will house the university's Kinesiology Department. The new facility comes at the perfect time for the Kinesiology Department – data suggests the number of kinesiology students will double and the number of athletic training students will triple by 2025.
"We want to ramp up our ability to produce those degrees that are in high demand," President Dr. Sandra Woodley said.
Another highlight of the state-of the-art facility includes the 150-seat auditorium and lecture hall. It will serve as an essential space for students and athletes. Whether watching game film or engaging in a class lecture, this theater-style auditorium is a multi-use facility that meets a great need.
"It will allow UT Permian Basin to host national speakers and field experts in an impressive on-campus venue," Farmer said.
The Human Performance Center is expected to be ready for students by Fall 2020.