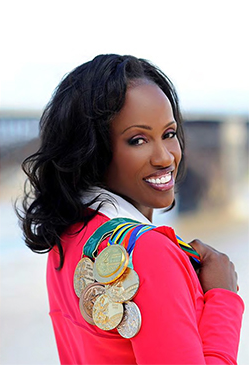 Upcoming JBS Distinguished Lecture Hosts Olympian Jackie Joyner-Kersee
Jan 10, 2018
As part of the Shepperd Distinguished Lecture Series, UTPB's John Ben Shepperd Public Leadership Institute will host an upcoming lecture entitled "An Evening with Olympic Champion Jackie Joyner-Kersee" at the Wagner Noël Performing Arts Center at Hwy. 191 and FM 1788. The lecture will be held on Tuesday, February 20, 2018 at 7 p.m. and is ticketed at $10 a person. Students from area schools, colleges, and universities may show their student ID to obtain a ticket free of charge. Tickets can be purchased at wagnernoel.com, ETIX: 1-800-514-3849, or the venue box office from noon to 5pm, Monday through Friday.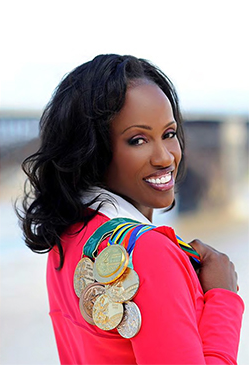 Joyner-Kersee has been dubbed 'The Greatest Female Athlete of the 20th Century' by Sports Illustrated. Her athletic accomplishments are literally second to none. By the conclusion of her career in the heptathlon and long jump events she had amassed six Olympic medals (3 gold, 1 silver, 2 bronze) and four World Champion titles over four consecutive Olympic Games. Jackie was the first woman in history to earn more than 7,000 points in the heptathlon and today, over 20 years later, she still holds the world heptathlon record of 7,291 points. She continues to hold the Olympic and national records in the long jump and her 1994 performance in the long jump remains the second longest in history.
Less well known are her tireless efforts and remarkable accomplishments off the field as a philanthropist and an advocate for children's education, health issues (in particular asthma from which she has suffered throughout her life), racial equality, social reform and women's rights.
Jackie is the author of both "A Kind of Grace" (1997), her autobiography, and "A Woman's Place is Everywhere." She is an active professional speaker and is widely considered one of the most inspiring motivational speakers in all of sports. Jackie speaks on topics of athletics, business success, living with the limitations of medical issues, nutrition, women's issue and youth advocacy.
Tatum Hubbard, CBS 7 News Anchor, will moderate the lecture. The Shepperd Institute strongly encourages audience members to submit their questions to Ms. Joyner during the lecture using their phones, texting their question to the moderator. The text number will be provided in the program.
All Shepperd Inner Circle members will receive their tickets from the Shepperd Institute in advance. They are also invited to attend both the photo line and VIP reception at the WNPAC just prior to the lecture. The photo line is from 5:30 PM to 6:00 PM and the VIP reception takes place in the Rea Recital Hall from 6:00 PM to 6:40 PM. Shepperd Inner Circle members will also receive a signed copy of Ms. Joyner's book, "A Woman's Place is Everywhere" free of charge. For those wishing to join the Shepperd Inner Circle, details are at http://shepperdinstitute.com/donate/.
The John Ben Shepperd Public Leadership Institute is the state's Center of Excellence for public leadership education, ethics, and public service. It prepares young Texans in these areas and conducts on-site leadership training at schools and organizations throughout Texas. The JBS Institute is co-located and part of The University of Texas Permian Basin (UTPB). Information about the Shepperd Institute and the Texas Leadership Forum is available at www.shepperdinstitute.com
For more information about this lecture event, please contact Ms. Cyndi Ward, JBS Administrative Assistant, at 432-552-2850 or at ward_c@utpb.edu.