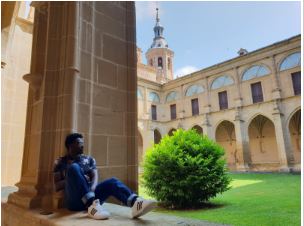 Students spend summer immersed in Spanish Culture
Jul 31, 2018
A group of UT Permian Basin students spent their summers getting a taste of a different culture.
Seven students have been studying abroad in Soria, Span at the Antonio Machado International Center.

Petroleum Engineering student Maissa Werema has loved every second of it.
"My experience in Spain has been very interesting," Werema said. "Not only am I learning the language here by immersion, but I'm learning more about a new culture that I had never thought of before."
Students had the opportunity to dive right in to the Spanish culture their first week. They were able to learn the history of the wine route in La Rioja. Their crash course on wine included an excursion to what's known as the most important wine museum in the world. Students were also able to visit the monasteries of Yuso and Suso; the sites where the Spanish language was first written and printed.
UT Permian Basin student Denise López says the experience changed her perspective on what it means to live abroad.
"I now know another culture far from my country with beautiful places and historical values," Lopez said. "Definitely coming as a student from abroad is worth it."

Students had the opportunity to visit to cities all across Spain including Madrid and Barcelona, as well as other historic cities, Numancia and Segovia.
"My experience in Spain has been very fun!" Accounting student Noemi Borunda said. "We have learned about the Spanish culture and architecture. I am proud of this opportunity, of being able to study Spanish literature. I loved being in Spain and would like to come back again!"
If you'd like to learn more about study abroad opportunities, click here.