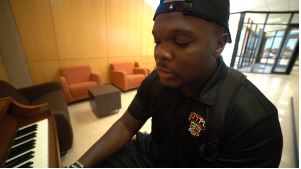 Ja'Vaun Johnson: Playing in Perfect Harmony
Sep 17, 2018
You can't miss Ja'Vaun Johnson. The 6' 6" left tackle is like a freight train on the field. Off the field, he's the type of person people gravitate to.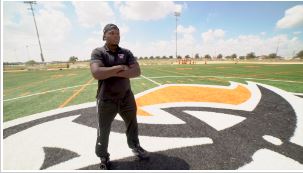 Here's something you don't know about Ja'Vaun: football and music saved his life.
"Being from Chicago, there's high violence. Especially on the south side. Football was one of those things that kept me occupied and off the streets," Johnson said. "The sport growing up opened a lot of doors. It kept me out of trouble."
He plays away his worries one note at a time.
"For me, it's just a way of expression. It's an expression without using words," Johnson said. "I can be angry or upset or going through something and when I play, that all goes away. Playing football is the same thing. I get on the field and nothing else matters but football. It all goes away. It's like a load lifted off of me."
The self taught musician turned down Division 1 opportunities to play for the Falcons.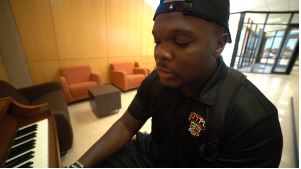 "I had a conversation with Coach Carrigan and he sold me to the vision and the dream. I saw the passion he had and I wanted to be part of something great," Johnson said.
Johnson says every success he's had thus far has been earned.
"Anything I wanted, I had to work hard for it," he said. "It's a blessing just to be able to be where I am now. I don't take it for granted."
Hard hits and high notes. All played in perfect harmony.