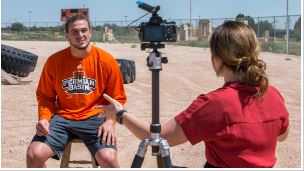 O'Kelley setting the standard one hit at a time
Sep 24, 2018
You know the saying: actions speak louder than words -- that's John O'Kelley.
He doesn't talk about himself.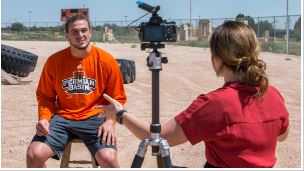 "I just go out and play, nothing really special," O'Kelley said.
If you watch O'Kelley play, you'll find he doesn't have to talk about himself. He lets his play on the field speak for him.
"It's just hustle," O'Kelley said.
Check this out: O'Kelley leads the nation in sacks this season and is 4thin tackles for a loss.
He was the Lone Star Conference Freshman of the Year last year and tied the NCAA lead in blocked kicks. All proof of O'Kelley's dedication week in and week out.
"You want to be the best," he said. "You want to say, 'I'm #1 in sacks' and I don't want to lose that. I think the little things definitely matter. It started for me my red shirt season. That taught me I could succeed if I worked hard."
He works hard not just for his team, but so that other teams know if they're playing the Falcons, they have their work cut out for them.
"What you put on tape is your standard and that's what everyone sees of you. I want the other team to know I'm there."
You could say O'Kelley is setting the standard, one hit at a time.