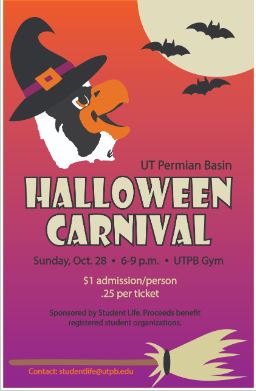 Annual Halloween Carnival Set for This Weekend
Oct 25, 2018
No tricks, but plenty of treats at UT Permian Basin's Annual Halloween Carnival this weekend!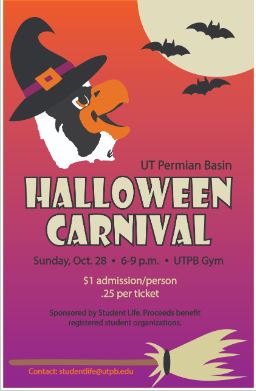 The entire community is invited to dress up and celebrate Halloween with UT Permian Basin student groups. The carnival will be inside the UTPB Gym, Sunday Oct. 28thfrom 6pm to 9pm.
The event is the first fundraiser of the year for many University groups and helps get the funding they need to operate. Admission is $1 per person and tickets to play games are 25 cents each.
Student Life Director Adrian Lodge says the event is her favorite community-wide event of the year.
"Our student organizations feel supported, we get to see LOTS of amazing costumes and interact with the community," she said. "We hope to see everyone there."
NEED TO KNOW:
WHO: The event is open to the public
WHAT: UT Permian Basin Annual Halloween Carnival
WHEN: Sunday, Oct 28thfrom 6pm – 9pm
WHERE: UTPB Gym