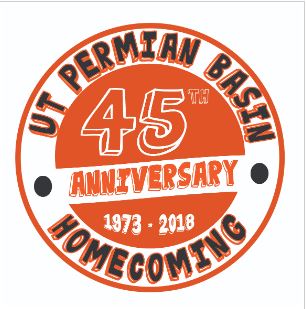 It's Homecoming Week!
Oct 09, 2018
UT Permian Basin is making 45 'look good.' The University has officially kicked off Homecoming week. This year's theme honors UT Permian Basin's 45thanniversary.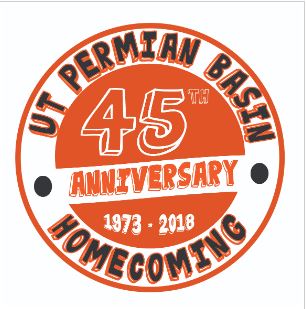 "We want to honor our past and celebrate how far we have come as an institution," Adrian Lodge, the Assistant Director of Student Life said.
Lodge and the Student Life team have something planned every night to celebrate the week. Their hope to get as many students involved as possible.
"Involvement is a huge part of the college experience. It supports what students are already learning but also teaches them lessons they don't necessarily get in the classroom," Lodge said. "It builds friendships and strengthens our Falcon family."
This year, students can expect several UT Permian Basin traditions and a few new elements.
"We have worked in a few new things this year," Lodge said. "We have our lip sync contest on Tuesday, a 105 ft. inflatable obstacle course at the flag football games on Wednesday, a glow in the dark casino on Thursday, and food trucks at the pep rally on Friday."
A fan favorite around the University is the annual Lip Sync Contest. Lodge says if you've never participated in an on-campus event, this would be a good first.
"Students, faculty, and staff get to see their peers compete in the contest," Lodge said. "If you like to laugh, DO NOT miss this event! 
Lodge says there are opportunities to get involved and volunteer. Anyone interested can contact: studentlife@utpb.edu. 
Schedule of events:
Monday, October 8

Rec Night, 5:00 p.m., Quad
Free food

Tuesday, October 9

Lip Sync Contest, 7:30 p.m., SAC (Sponsored by CAB)

Wednesday, October 10 

Alumni Flag Football Game & Bell Decorating, 7:00 p.m., Intramural Fields
Free food

Thursday, October 11

Men's Soccer vs Rogers State, 7:00 p.m.
Glow Casino, 9:00 p.m.-11:00 p.m., SAC (Sponsored by CAB)

Friday, October 12

Women's Volleyball vs Texas A&M Kingsville, 6:00 p.m.
Distinguished Alumni Awards (purchase tickets), 6:00 p.m.
Women's Soccer vs. Texas Woman's University, 7:00 p.m.
Pep Rally & Bonfire, 8:00 p.m., Library Parking Lot

Open to the public
Food trucks  

Saturday, October 13

Men's & Women's Swim vs Alumni, 11:00 a.m.
Men's Soccer vs Newman, 1:00 p.m.
Football vs Humboldt State, 6:00 p.m., Ratliff Stadium

Homecoming King & Queen announced halftime

Sunday, October 14

Women's Soccer vs Texas A&M Commerce, 1:00 p.m.
Men's & Women's Basketball Falcon Madness, 7:00 p.m., UTPB Gym