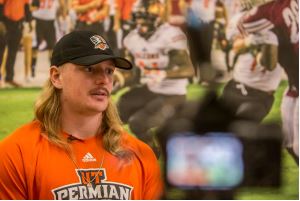 Gray setting the standard for future Falcons
Oct 08, 2018
Keegan Gray is another leader on the Falcon football team. He was on the field for the program's first game. He has been one of the pillars of starting the program and helping develop a standard that players, years from now will be held to.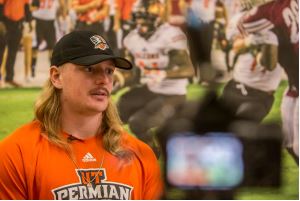 Gray's motto may sound familiar: the little things make the biggest difference.
"Our coaches told us that at the beginning of the year and it's something my teammates and I try to live by," Keegan Gray said. "It gets you paying attention to the little things that you need to pay attention to. That leads to bigger changes."
It's a philosophy he and the Falcons' other day-1 team members believe will lead them to success.
"All I can do is put my head down and lead by example. That's what I try to do on a daily basis," Gray said.
The opportunity to start a new program was one Gray couldn't't turn down. For him, it's a dream come true.
"It's everything I wanted it to be. I dreaming as a kid of getting to play college ball, getting to high school and realizing that it could happen to me and then getting signing day. It's just awesome," Gray said. "It's really cool to be part of a new program. It's not something a lot of people get to do."
Three years in, Gray says the journey hasn't't been easy. But the pay off? "It really is everything. I enjoy every moment with my teammates. I love every single thing about this sport," Gray said.