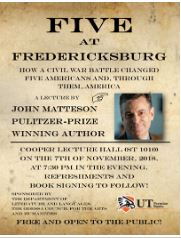 Pulitzer-Prize Winning Author to Visit Campus
Nov 06, 2018
Pulitzer-Prize winning author John Matteson will be making a special trip to UT Permian Basin.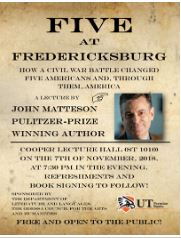 The community is invited to hear a special lecture given by Matteson, "Five at Fredericksburg: how a Civil War battle changed five Americans and, through them, America."
Professor Matteson is the world's authority on Louisa May Alcott, author of the beloved novel Little Women.  Eden's Outcasts, Matteson's outstanding biography of Louisa and her father, Amos Bronson Alcott, won the Pulitzer-Prize in 2008. 
"UT Permian Basin and our larger community are indeed fortunate to have a public lecture from a scholar of this caliber," Dr. Todd Richardson, an associate professor with the UT Permian Basin Literature and Languages Department said.
YOU'RE INVITED:
WHAT:Special lecture given by Pulitzer-Prize winning author John Matteson
WHEN:Wednesday, November 7that 7:30 p.m.
WHERE:Cooper Lecture Hall in the Science and Technology Building