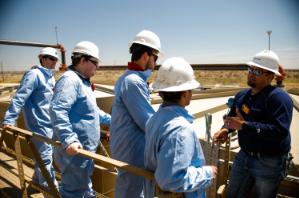 Parsley Energy Connecting Students to Industry
Apr 11, 2019
College of Engineering students are taking advantage of going to school in the world's largest oilfield. A group of petroleum engineering students recently took a tour of a Parsley Energy tank battery facility.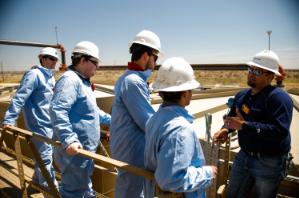 Mark Timmons, Parsley Energy's VP of Field Operations, volunteered to host the group and introduce them to his team members and show them key points in the process of transporting oil.
"The tour followed each of the 3-phases of production flow path from the wellhead to custody transfer points," he said.
Timmons says the trip gave students the opportunity to apply concepts they're learning in class in a real-world setting.
"The oilfield is technically advanced and what they're learning in the classroom is important," Timmons said. "The oilfield uses                         cutting-edge technology and a well-rounded background in mathematics, science and engineering will help them understand and utilize this technology in the future."
Timmons says getting started in the energy industry is all about taking advantage of every opportunity.
"This opportunity hopefully was beneficial to students with little or no prior facility experience, helping them understand the flow path, facility layout and equipment operation," he said. 
UT Permian Basin is committed to providing real-work experiences to all students in order to prepare them for their career path. This comes in the form of internships, co-ops and partnerships like the one with Parsley Energy.
"Our mission is to serve this region and that means producing graduates who are ready to begin a successful career right after they walk across the stage," UT Permian Basin President Sandra Woodley said. "We believe experiences like these set up apart from other universities and provide our students with an advantage. Plus, it gives our industry partners a chance to meet and get to know the future workforce."