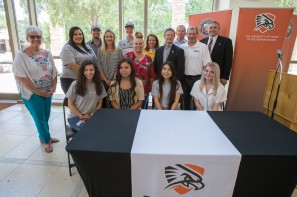 College of Education Partners with PDC Energy to Fill Teacher Shortage
Jun 18, 2019
As a new school year approaches, local school districts continue to struggle to hire enough teachers. The University of Texas Permian Basin is working to solve that problem.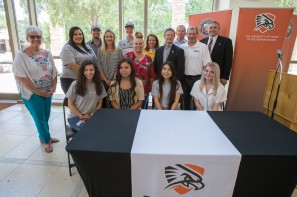 To help meet that critical need, UT Permian Basin is partnering with PDC Energy and the Education Foundation to award scholarships to students enrolled in the College of Education.
The PDC Energy Education Scholarship will award students, entering their senior year of college, $10,000 for tuition, fees and books with the promise that they'll work at least two years in a local school district. The Education Foundation Scholarship will afford select students full tuition, fees, books and a meal plan if they are able to maintain a specific school criteria and commit to teaching for two years inside of an Ector County ISD school following graduation. 
"These scholarships are monumental as it supports the goal of recruiting and training future educators who will fulfill the ever increasing demand for highly qualified teachers in the Permian Basin," Assistant Professor of Early Childhood Education Lindsey Balderaz said.
The collaboration with PDC Energy and the Education Foundation is part of UT Permian Basin President Sandra Woodley's 10-year plan to double the number of K-12 teachers.