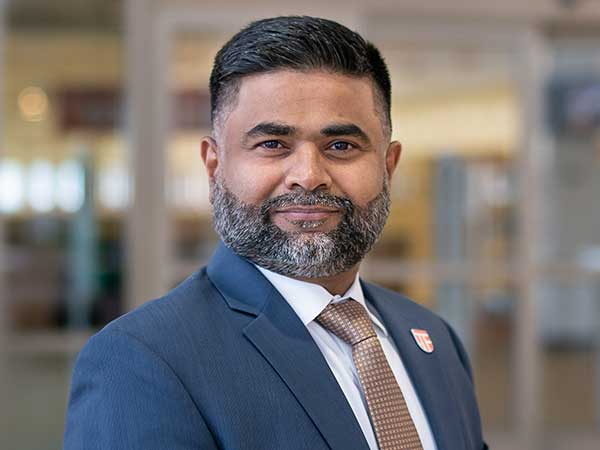 Have you met: Dr. Raj Dakshinamurthy
Aug 03, 2020
By Alexa Dunson, Communications Manager
Dr. Raj Dakshinamurthy is the new Associate Vice President for Research and Dean of Graduate Studies. He officially began his role at UT Permian Basin on June 1, 2020. Raj will oversee the offices of Graduate Studies and Research and Sponsored Projects.
Q1: Tell us about your educational and professional background.
Prior to UTPB, I served at Austin Peay State University (APSU), where I led the Office of Research and Sponsored Programs to achieve their highest level of grant award dollars in APSU's history. Over the past 10 years, I have served in various administrative roles, including dean of graduate studies, director of research and sponsored program, graduate program director, and assistant department chair. I earned a bachelor's degree and a dual Master of Science and philosophy degree from St. Joseph's College in India. I earned my Ph.D. in biochemistry and structural biology from the University of Arkansas. I am proud to have been recognized several times for excellence in teaching, research, and professional service.
I am a bioanalytical chemist by training, spending my professional career focused on researching protein structure and function, drug discovery, and biological nanomaterials. As a researcher, I have over 30 publications in high impact journals and 300 research presentations related to the field of biomedical sciences. Additionally, I secured a patent for the synthesis of gold nanoparticles capped with drugs. As an investigator, I have been awarded approximately $1 million in grants.
Q2. What will you be doing at UT Permian basin?
I will manage the day-to-day operations of Graduate Studies and the Office of Research and Sponsored Projects. I will partner with the president, provost, deans and faculty to promote graduate education, academic research, innovation and grant writing. I will also work to grow and develop graduate programs designed to meet regional and national needs. Additionally, I have begun serving on several University committees and initiatives.
Q3. What do you love most about your role here?
I love the "student first" culture at UTPB! I am already involved in a wide variety of exciting and impactful projects. Because of this, I will have many opportunities to interact with students, staff, faculty, and members of the surrounding communities. I will get to experience UTPB in unique ways. Ultimately we are all working together to provide opportunities for our students to learn and be successful, and I look forward to contributing to that goal.
Q5. How can students, faculty and staff take advantage of your expertise?
The UTPB has innumerable resources for its students, but its most prominent is a strong and dedicated faculty and staff. In this context, my job doesn't limit me to administration, since I am also a faculty member, researcher and mentor. I am always open to building new opportunities including innovation, professional development and support.
Q5: Share a fun fact with us!
I am a great fan of the show, "Big Bang Theory" and I am very honored that they decided to name a character after me!