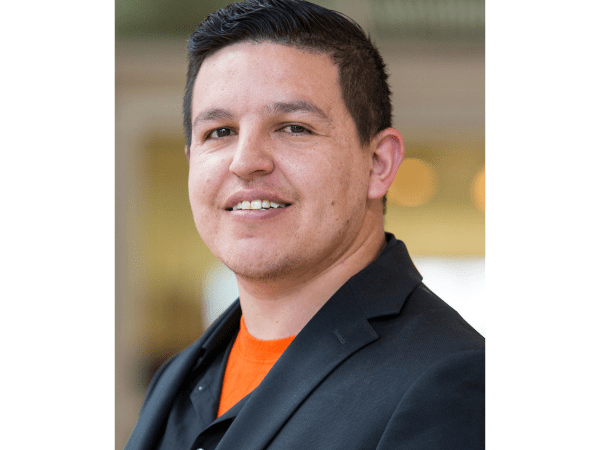 Have You Met: Richard Ortiz
Oct 05, 2020
By Alexa Dunson, Communications Manager
Richard Ortiz is a UT Permian Basin alum and the new Coordinator of Veteran and Foster Alumni Services, School Certifying Official.
Learn more about Richard and his role at UTPB below:
Q1. Tell us about your educational and professional background.
A week after graduating from Midland High, I joined the U.S. Marine Corps and served for 4 years working in IT as a Network Administrator. Since then, I held leadership roles in various industries while pursuing a full-time dance career.  Once I became a professional dancer, I taught, performed and competed in Latin and Ballroom dances for over a span of 15 years. Wanting to improve my dance business, I decided to pursue a BBA in Marketing which I received from UTPB in Spring of 2020.  It was during my years in school that I realized that what I enjoyed doing most was helping others succeed and live fruitful lives; dancing was just a fun way to do so.  That prompted me to switch careers, so here I am, working at UTPB helping veterans and foster alumni prepare for bright futures.
Q2. What will you be doing at UT Permian basin?
As the Coordinator of Veteran and Foster Alumni Services, I'll support veterans and military-affiliated students understand and receive benefits they are eligible for to help them succeed and prepare for their future. This means helping veterans transition to a civilian-student lifestyle, connecting them with other veterans through events and outreach programs, serving as a liaison for external veteran resources, and helping them transfer eligible benefits to their spouse and dependents if so desired.  I want UTPB to be one of the top military-friendly school in the country in the next five years.
I'll also try to identify, recruit and support students who have experienced foster care or homelessness and help them go from a success academic to professional career.
Q3. What do you love most about your role here?
Getting to know students, making the experience with UTPB memorable, and helping students succeed. Although I'm no longer dancing full-time, I get to keep the best part of the job while working at UTPB. The students are first!
Q4. How can students, faculty and staff take advantage of your expertise?
By simply asking. I'm always willing to share what I know with others. Apart from my job description, some interesting things that I can help with on campus are understanding the overall campus experience and problem solving. I've had the rare opportunity to see UTPB from the lens of a student and staff which gives me unique insights on the UTPB experience. I'm also a huge fan of automating work whenever possible, using technology to be more efficient and effective in the workplace, and thinking outside of the box for creative solutions.
Q5. Fun fact
I like to dance, sing and do standup comedy.