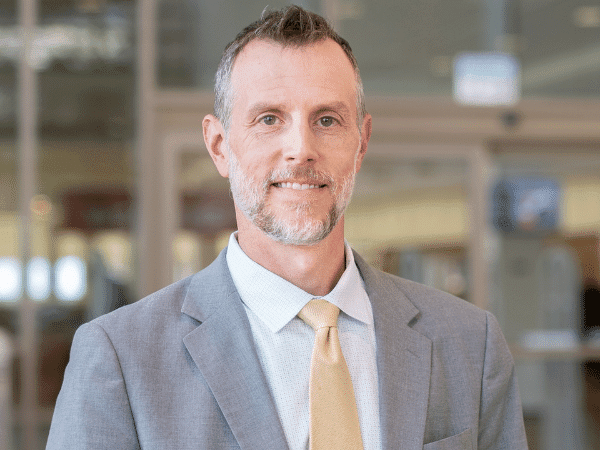 Have You Met: Brian Shedd
Dec 15, 2021
Brian Shedd is joining the Falcon family as the new Executive Director for Innovation & Commercialization. Read below to learn more about him. Welcome, Brian! 
Q1: Tell us about your educational and professional background.
I'm coming to UTPB after having been the Director of Technology Commercialization at the University of Houston for the past 3 years. Prior to that I worked in technology transfer roles at LSU and UCLA. I've been a member of AUTM, the international professional organization for technology transfer for the past 13 years and currently volunteer as a trainer for the Essentials and Negotiations professional development committees. I also founded and run a private consulting company focused on the nexus between university technology transfer and small business. As for my educational background, I received my MS and PhD from UCLA in Mechanical Engineering studying conducting polymer nanomaterials. I received my BS In Mechanical Engineering from University of Colorado, Boulder and a BA in Physical Science from Southwestern University in Georgetown Texas. I'm originally from Baton Rouge, Louisiana but have lived and worked across the US and internationally. More on my professional background can be found on my LinkedIn page: https://www.linkedin.com/in/briansheddphd/ 
Q2. What will you be doing at UT Permian basin?
I am serving as the Executive Director for the newly formed Office of Innovation and Commercialization. My role will include supporting all of the faculty, staff, and students at UTPB in their innovation and research commercialization goals as well as interfacing with the external business community to develop partnerships, collaborations, and form new companies. Our office will also run the UTPB Incubator and Makerspace which is getting built in the CEED building on the Midland campus, which will have leasable space for companies and facilities for prototype manufacturing. 
Q3. What do you love most about your role here?
I love the fact that I am here at the ground level and have an opportunity to build something new and unique for the university and the community that will be able to impact everyone in a very positive way. Building programs and teams is a great passion of mine, and it is meaningful to me to be able to share my experiences with others. 
Q4. How can students, faculty and staff take advantage of your expertise? 
You can contact our office at innovation@utpb.edu, or I can be reached directly at shedd_b@utpb.edu. We will be developing a website for both the internal and external community which will have a lot of resources on it, so stay tuned for that. 
Q5: Tell us a fun fact about yourself! 
Well first off, I have been married for almost 10 years to my beautiful wife Stephanie, and we have two boys, Jacob (8) and Oliver (3), and also have two dogs, Scampi (Cattle Mix), and Ace (Husky mix). For fun, last year my son and I started playing disc golf – A LOT. We both regularly compete in tournaments and I am very happy to know that Midland and Odessa are home to several courses. It is a great sport that just about anyone can play and have fun with, so if anyone wants to get a round in, please hit me up!