The Office of Innovation & Commercialization was developed in 2021 to unify all of the innovation and commercialization activities at the university to comprehensively support the campus and community. Through the office and its partners, all types of resources are available to support innovation development at every point along the path to commercialization and broader societal benefit. We encourage you to reach out if you think we may be able to help you or if you are just curious about what we do.
Technology Transfer
Technology transfer is the process that universities and other academic institutions use to shepherd ideas from the lab to the marketplace — from evaluating and protecting discoveries to commercializing the inventions through new and existing companies.
Click to learn more
Startup Support
New companies require tremendous amounts of resources and support to launch and thrive. OIC is here to help UTPB startups connect to those resources and also to support outside startups to better engage with the unique opportunities available at UTPB.
Click to learn more
Industry Collaboration
For faculty looking to connect and collaborate with industry, and for industry looking to identify research capability and expertise at UTPB, OIC can help connect the dots and make introductions. We are a facilitator across all industry sectors, for opportunities near and far.
More details coming soon
Product Development
Through the facilities and partner relationships at OIC, we can support small and big businesses alike with developing new products to benefit society. We support customer discovery, early stage design, and manufacturing and prototyping capability.
More details coming soon
Our Space
The Office of Innovation & Commercialization will be located at the Center for Energy and Economic Diversification (CEED) building on the Midland campus. CEED is currently undergoing renovations to add additional innovation space including:
Business Incubator
Maker Space
Wet Lab Space
Co-working Space
Advanced Manufacturing Center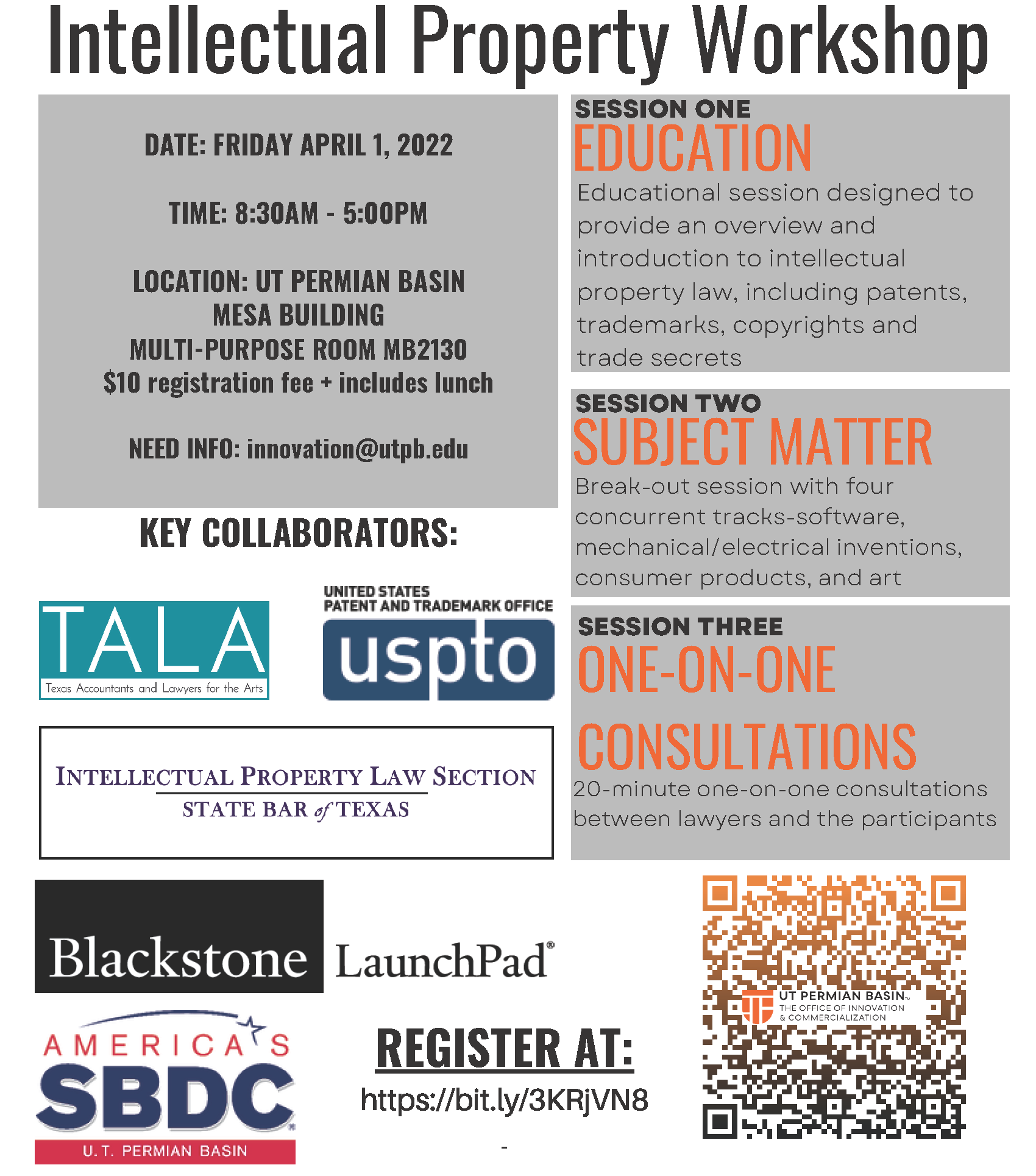 IP Workshop
On Friday April 1st, the Office of Innovation and Commercialization hosted an IP workshop in collaboration with the United States Patent and Trademark Office, UTPB Blackstone LaunchPad, the UTPB SBDC, Texas Accountants and Lawyers for the Arts, and the IP Law Section of the State Bar of Texas to bring 16 different intellectual property professionals to UTPB to educate the community about intellectual property. The day was broken into three sessions including a general education session about the basics of intellectual property, followed by breakout sessions in four areas: (1) software, (2) mechanical/electrical inventions, (3) consumer products, and (4) art, and ending with 1-on-1 sessions with the different speakers so everyone could get specific questions answered.
Download/View Presentations