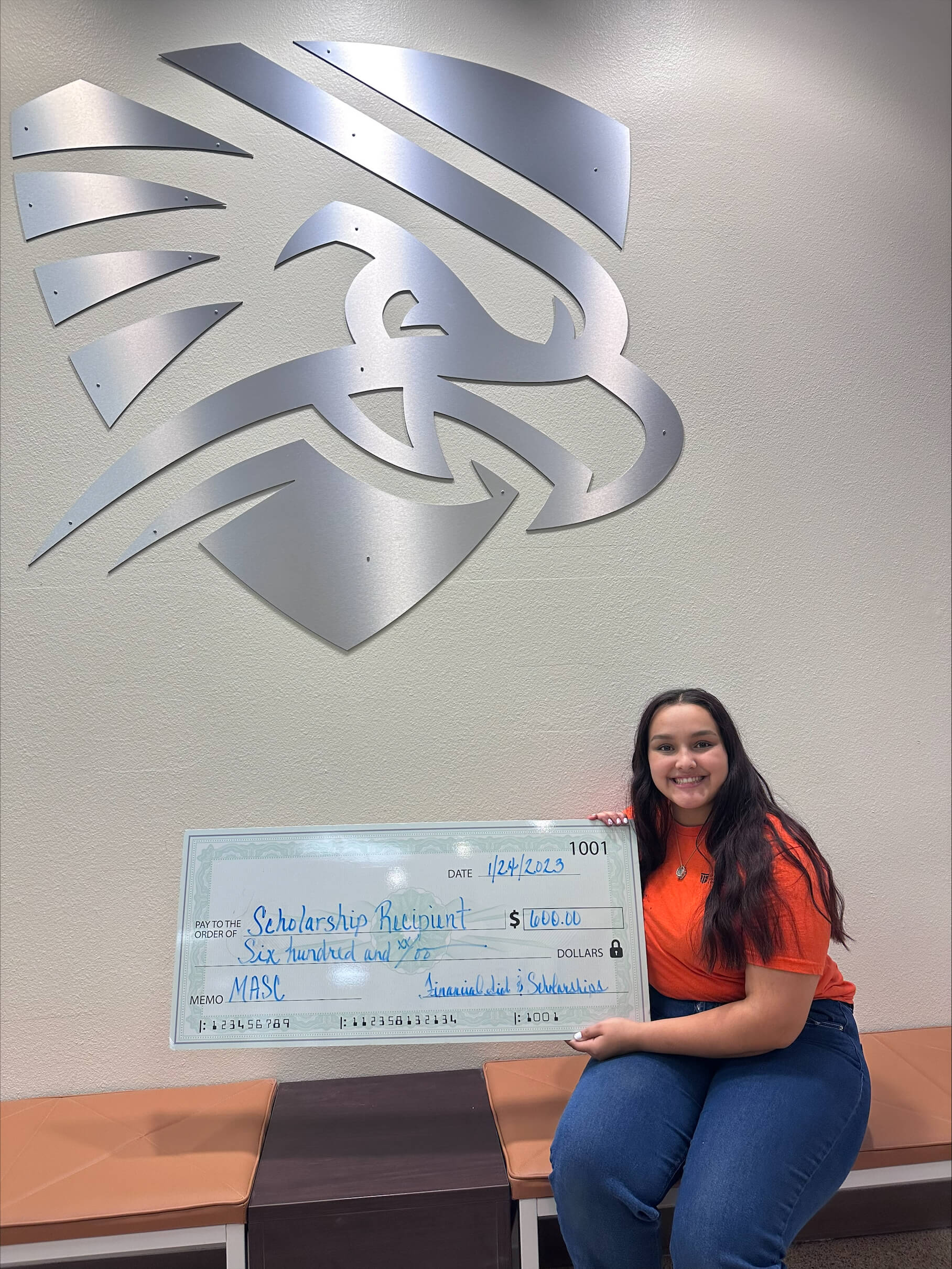 External Scholarship Match!
The scholarship opportunities provided by third parties, like the committees and organizations listed below, have a great impact on the college experience and success of our students. We love to share the stories of our very own students who were fortunate enough to receive a third-party scholarship.
Visit our social media to learn more and hear their stories!
Expand your search for scholarships.
The federal and state governments are the biggest sources of financial aid available to students, but they aren't the only sources of financial aid. Applying for private scholarships can help supplement what you may be eligible for from government programs. 

The following list of organizations either provide third-party scholarships or serve as a search engine to find scholarship opportunities. 
External Scholarships from Outside Agencies
External Scholarships Continued
Tips for Searching for External Scholarships
Deadlines and requirements may vary based on the donor or funding organization.
Questions about an individual scholarship should be directed to the donor or funding organization.
Reach out to the college associated with their major. Some colleges have scholarship opportunity information pertaining to students in a specific major.
We recommend that students search for scholarship opportunities with their high school, student or parent employer, church or denomination, and other unique options for them.
Disclaimers
Do your research to make sure the scholarships you apply for are legitimate.
You should never pay for a scholarship search or provide your private personal financial information such as bank account or credit card information.
Inclusion in our third-party scholarship list does not constitute an endorsement by UT Permian Basin.
UT Permian Basin cannot guarantee the accuracy or the timeliness of information provided by the donor or funding organization. We advise you to verify the information with the donor or funding organization.
Information for students receiving external scholarships from outside agencies
Donors can mail scholarship checks to:
Office of Financial Aid & Scholarships
4901 East University Blvd
Mesa Building 1225
Odessa, TX 79762

Please make scholarship checks payable to The University of Texas Permian Basin. Checks should not be made payable to the student.

Donors may electronically transfer scholarship funds via ACH payment by contacting:
Treasury & Assets Accountant III
Office of Accounting
Call 432-552-2711 or email ramirez_l@utpb.edu

Office of Financial Aid & Scholarships
scholarships@utpb.edu
Additional Documentation
Donors should include the following information when funds are sent to our institution so that scholarship checks can be processed in a timely manner:
Recipients full name
Student ID number (10 digits)
Guidance regarding which semester(s) the award should be applied to (fall, spring, summer)
Third party contact information (organization name, mailing address and phone number/email address)
Enrollment & Tuition Verification
UT Permian Basin students can log in to their student portal at my.utpb.edu to print their semester schedule as well as their eBill statement.
Enrollment verification paperwork can be submitted to scholarships@utpb.edu
Scholarship Award & Disbursement
Priority Deadline:
Fall semester - July 15
Spring semester – November 15
Summer semester – April 15

Third party scholarship checks received after priority deadline do not guarantee that the scholarship funds will be processed by the semesters financial aid disbursement date or by the bill due date. If you have not been awarded and accepted enough aid to cover your bill you will need to sign up for a payment plan to hold your classes.

For disbursement dates, please refer to our disbursement schedule.
Scholarships are disbursed according to the term(s) provided by the donor. If the donor does not specify which semester they would like the scholarship to be applied to, our department will process as follows:
Award amount will be split evenly between the fall and the spring semester if the student is enrolled during each term.
If the donor wishes to have the disbursement updated to a different term, they will need to send a letter to our Office of Scholarships with the request. This can be submitted to scholarships@utpb.edu.
Financial Aid Award Adjustments
Please be advised that a third-party scholarship may affect your financial aid eligibility. Based on the timing of the award process, adjustments to other financial aid may be necessary to avoid an over award over cost of attendance.


For donors who want to provide an endowment or gift to UT Permian Basin
If you, your corporation, or foundation would like to create an endowed scholarship, provide a gift/donation, or receive more information about ways to give please visit the webpage for the Office of Advancement. It is thanks to our generous donors that general scholarships are made possible. Thank you in advance!
For more information, please contact the Office of Advancement at: 432-552-2800 or development@utpb.edu.