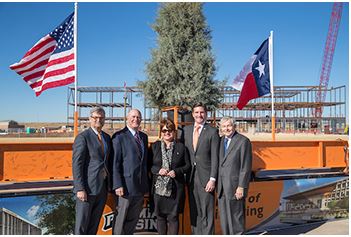 Topping Out Ceremony
Jan 30, 2018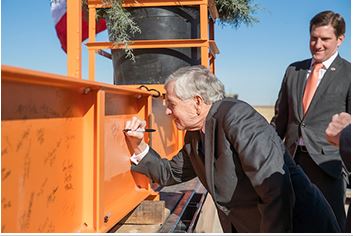 Local state legislative delegates, energy industry leaders, business leaders and representatives from the UT System joined UTPB staff and faculty for the 'topping out' ceremony for the College of Engineering building under construction near the CEED building on the UT Permian Basin Midland campus.
"Topping out" is a ceremonial event which celebrates a major structural milestone in the construction of significant buildings. A tree attached to a beam represents one of the construction industry's oldest traditions brought from Europe to the United States. Ironworkers have continued the "topping out" event,because their skills make them the first to reach the pinnacle of a structure.
For the UT Permian Basin Engineering Building, an 18 inch by 22 foot beam has been designated for the Topping Out Ceremony. Attendees were invited to sign the orange painted beam before it was placed in the Southwest corner of the building under construction.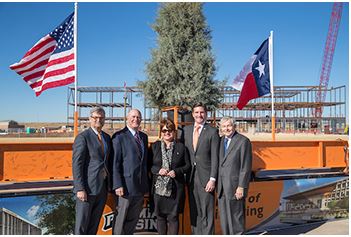 "The significance of this day goes far beyond the beam-signing and the building," said Sandra Woodley, president of UT Permian Basin. "This ceremony represents a promising future for a growing university and an important addition to the longevity and success of this entire region."
The $55 million three-story engineering facility was approved by the UT System Board of Regents on Aug. 24, 2017. Construction began in late April and is projected to conclude in Fall, 2019.
The building will include 105,801 gross square feet and 63,480 assignable square feet that will include space for classrooms, instructional labs, research, administrative offices and student support services.