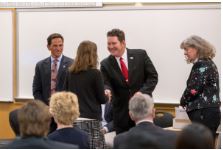 College of Business Honors Ceremony
Apr 30, 2018
The 13th annual University of Texas Permian Basin College of Business (COB) honors ceremony was held on Friday, April 20, 2018, in the Science and Technology Building Cooper Auditorium. The COB awards are hosted annually by UTPB and recognize the outstanding leadership and achievements of organizations, student leaders and faculty for 2018. Students and advisors nominate organizations and individuals to win a variety of awards.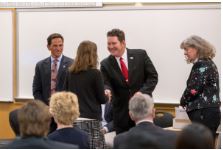 Included among the celebration was the induction of business students into the Beta Gamma Sigma Honor Society. This society encourages and honors academic achievement in the study of business while cultivating and celebrating leadership and professional excellence. Beta Gamma Sigma is the largest alumni group in the world for graduates of AACSB accredited business programs.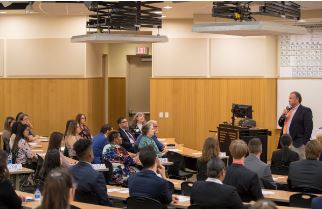 Others recognized at the event included accounting students who were inducted into the Institute of Management Accountants (IMA) Honor Society. Katie Michaels was awarded the Texas Society of CPAs Accounting Excellence award. Three Business faculty were recognized as COB faculty of the year. They include Narita Holmes (teaching), Shuming Bai (research) and Cheryl Prachyl (service).
Congratulations to these outstanding individuals!
Beta Gamma Sigma
Graduates
Taylor N. Bagwell
Ryan K. Barker
Monica E. Cavazos-Rodriguez
Kaci D. Chambers
Brock E. Fitch
Anthony K. Hartsfield
Michael G. Herrera
Elsie Mamouka
Pedro A. Mancilla
Katherine Michael
Danish Nasim
Brinda Neupane
Maria F. Orona
Jean-Paul Pitre
Amy Rey
Carla N. Rodriguez
Gabriel Ruscalleda
Christopher A. Small
Glenn Tolentino
April A. Williams
Undergraduates
Erica Alvarez
Jordan Bradley
Oscar P. Gonzalez-Forseck
Goriola

 

S. Ibarra
Genesis Lara
Daniel Lugo
Francisco Rodriguez
Daniel B. Sanchez
Samuel Torres-Berrum
Faculty
Michele Harmon
Outstanding Students 2017-2018
BBA in Accountancy: Kelly Rains
BA in Finance: Steven Lively
BS in Industrial Technology: Adrian Donacio
BBA in Management: James Drexler
BBA in Marketing: Maria Orona
MBA: Stephen Michael Brown
MPA: Katie Michael
Outstanding Faculty
Teaching: Narita Holmes
Research: Shuming Bai
Service: Cheryl Prachyl
2011-2018 IMA Honor Society
Graduates
Demekia Miller
Adriana Munoz
Jean-Paul Pitre
Varun Saran
Stephanie Shreffler
Undergraduates
Shawnda Aaron
Erica Alvarez
Andrea Cherry
Yazil Rascon Duarte
Christina Keese Granado
Janeth Griego
Goriola

 

Ibarra
Liezl Lang
Genesis Lara
Michele Lebaron
Paige Lewis
Ashley Lujan
Samantha Melendez
June Moore
Van Nguyen
Alexandra Ornelas
Alan Pate
Daphne Pina
Kelly Rains
Lucinda Reed