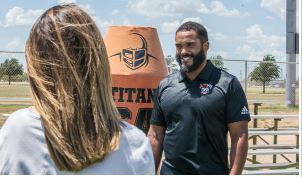 Thames Leads Team by Example
Aug 30, 2018
Senior Jared Thames is ready for a new football season. He's returning from an injury that forced him to sit out all of last season. To say that he's ready to take the field is an understatement. The defensive lineman recorded 39 tackles during the 2016 season. Though, his most important role, aside from sacks, is leading by example.
Whether it's suited up for a game or at practice, Thames takes it all one step at a time.
"It's all about the small things," Thames said.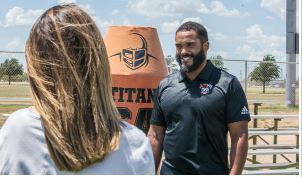 It's those small things that got him to join the program in the first place. He was one of the first players to sign on in 2016.
"It's been crazy. When we first got here on my day visit, they walked me around. They showed me where the coaches met. At the time, they were meeting in the racquet ball court," he said.
It definitely started small, but it was a promise made by the coaching staff that encouraged him to stay.
"We didn't have lockers; we didn't have a weight room. We didn't have anything," Thames said.  "I just sat down with them and talked. So far, it has been exactly what they said. The biggest thing for me is just being around the guys. It's having a purpose bigger than yourself."
Now healed from a season ending injury, Thames is more than ready for year three.
"We're a new team. A completely new team from the past two seasons and I can't wait," he said.
He has spent the off season running and focusing on his agility.
"Just perfecting our craft every chance we can get," he said.
It's a practice he hopes will rub off on younger members of the team.
"I'm not a very vocal person but I try to lead by example. Giving 100% to everything I do and hopefully they follow along," he said.
It's reflecting an attitude towards the game he hopes will inspire his teammates and carry them through a winning season.