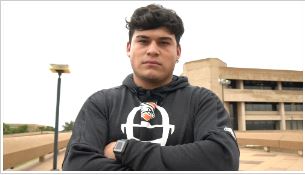 Zubiate Ready to Make His Mark
Oct 29, 2018
The freshmen of the Falcon Football program are showing promise for its future. One the young men leading the way is half-back Matthew Zubiate. The 6' 2", 240lb freshman is ready to leave his mark on the young program.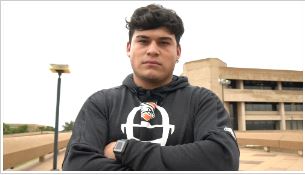 Football was not supposed to be in the plan for Zubiate.
"My mom didn't want me to play football," he said.
That's not what happened. He suited up and as fate would have it, it was love at first hit.
"As soon as we started hitting I knew I loved it. That was the moment I fell in love with the sport," Zubiate said.
The sport loves him back – he set records in both middle and high school and is a true freshman starting for the Falcons. The game also gave him a reason to perform in the classroom.
"Football made me who I am today," Zubiate said.  "I'm in football, so I have to pass my classes and make sure I'm doing my part."
Like other Falcons, Zubiate put in the work to get offers from large programs around the country, but he ultimately chose UT Permian Basin.
"I wanted to be part of something great, something that will go down in history. I wanted to be part of something that isn't established," Zubiate said.
He's taking every rep on and off the field as an opportunity to improve the game he has loved his entire life.
"You have to always pay attention to the person in front of you, who's next, what you can do to improve," Zubiate said. "I'm so grateful for the opportunity to play ball. Only 6-percent of high schoolers get to play. It's a blessing, a dream come true."