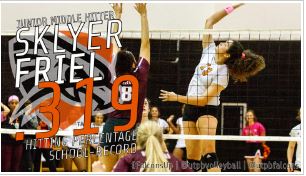 Friel Ends Season on High Note
Nov 13, 2018
Match after match, the lady Falcons volleyball team proved this season that they are a force to be reckoned with.
Take for instance team captain Skyler Friel – she leads the team in kills, blocks and service aces.
"The high energy level, the competition, the spirit – I love everything about volleyball," she said.
Friel's college career didn't begin at UT Permian Basin; she was on the volleyball team at a different university.
"It wasn't a great fit for me," Friel said.
She was down, but never out.
"I ended up finding coach Loesch and the University here," Friel said. "There's just something here in Odessa. I've never been to this area before. There's something here that made me feel at home."
Turns out that feeling of home and a little faith is exactly what Friel needed – she has had success here that she never knew was possible.
"I never thought I'd be here, especially as a captain," Friel said. "I was really quiet and shy back then."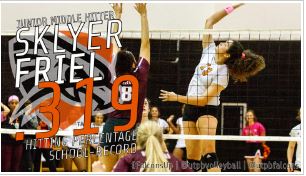 Friel ended the season on a high note – she earned a spot on the Lone Star Conference First Team and All-Academic Team. She also set a UT Permian Basin single season record for hitting percentage at .319, fourth in the conference.
Proof that if you believe, anything is possible.