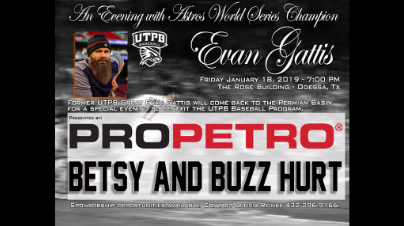 World Series Champ Evan Gattis Returns to UTPB for Fundraiser
Jan 04, 2019
Former Houston Astros World Series champion and UT Permian Basin alumnus Evan Gattis is returning to Odessa to help raise money for his alma mater – the UT Permian Basin baseball the team.
The event is presented by local oilfield services company, ProPetro.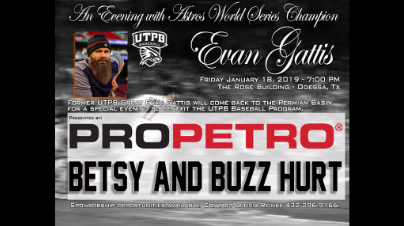 "It was extremely important to be able to help kick this event off," said David Coleman of ProPetro. "Because the impact that UTPB baseball had on Evan Gattis, and the impact that the funds raised through this night can have on so many more young men like Evan, it can leave a lasting impact. We're excited to step forward with the Rose family for this exciting event to help out a lot of people."
Gattis helped lead the Houston Astros to a 2017 World Series title; that season he hit 12 homers and drove in 55 runs. This past season, Gattis hit 25 homeruns and brought in 78 runs.
Gattis' big league success comes as no surprise. It mirrors his impact on the single most successful season at UT Permian Basin. Gattis led UTPB in nearly every offensive category in 2010 during his one season with the Falcons. He ranked first on the team with a .403 batting average, 12 homeruns, 54 runs, 62 RBIs, 35 walks and a .519 on-base percentage.
"Evan put this school on the map," UTPB head baseball coach Brian Reinke said. "He has such a remarkable story and I think young players can learn a lot from him."
Gattis was drafted by Atlanta in the 23rd round of the 2010 MLB Draft.
Gattis will take part in a fundraising dinner along with a meet-and-greet on Friday, January 18, 2019 at 7 p.m. at The Rose Building. Attendees will be able to hear about Gattis' inspiring journey to the MLB through UTPB. Proceeds from the event will go towards scholarships for the Falcon baseball team.