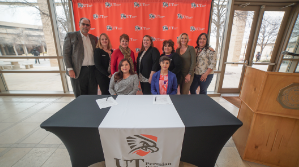 Partnership with Education Foundation to Grow Teacher Workforce
Feb 06, 2019
By Tatum Guinn - Communications Manager
It's no secret that there is a shortage of teachers in the Permian Basin. Local school districts report having hundreds of unfilled teacher positions. 
To help meet that critical need, The University of Texas Permian Basin is partnering with The Education Foundation to award scholarships to College of Education students.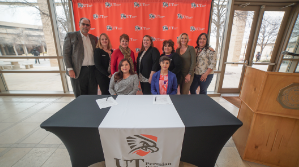 The first recipients of the Education Foundation Scholarship are Lorena Sotelo and Samir Chavira. The pair are Ector County ISD graduates who have agreed to return to ECISD to teach once they graduate from UT Permian Basin.
"The Education Foundation Scholarship is monumental as it supports the goal of recruiting and training future educators who will fulfill the ever increasing demand for highly qualified teachers in the Permian Basin," Assistant Professor of Early Childhood Education Lindsey Balderaz said.
Balderaz says students will receive full tuition, fees, books and a meal plan if they are able to maintain 12 credit hours and a 3.0 GPA. Recipients are also required to fulfill 80 hours of volunteer work inside classrooms and teach in an ECISD school for two years.
The collaboration with Education Foundation is part of UT Permian Basin President Dr. Sandra Woodley's 10 year plan to double the number of K-12 teacher graduates.
"We have a responsibility to do much more in this area," Dr. Woodley said. "We will accomplish this by partnering with organizations like Education Foundation to innovate programs that support our local school districts. We are laser focused on providing solutions to allow this region to continue to thrive."