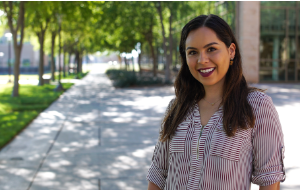 Orona Accepted into Harvard Business Program
May 30, 2019
"Learn how to be comfortable with being uncomfortable." Those are words Maria Orona lives by. It's a mantra she has kept close to her throughout college – a concept she plans to take with her to Harvard University.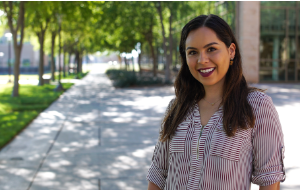 The MBA student was recently admitted to the Ivy League university's Credential of Readiness (CORe) program. It's a 150 hour certificate program centered on the fundamentals of business. It is designed to prepare students for the business world with a deep understanding of essential business concepts and problem-solving skills.
"As students, I believe it is crucial for us to get involved in real-life cases, analyze every situation from other perspectives, as well as wear the shoes of the world business leaders," she said.
Orona first came to UT Permian Basin to play tennis and work towards her marketing degree.
"I was looking for a university with an outstanding business program. I found UTPB's business school and saw that it was AACSB accredited, only 20-percent of business colleges have this accreditation. I just felt that UTPB was the right place to go," she said.
Once on campus, she thrived.
"I was a student-athlete on the women's tennis team," Orona said. "I was the team captain. I'm also a member of the National Honor Society, Beta Gamma Sigma Honor Society, a member of the Marketing Club and Finance Club."
Orona says her support system at UT Permian Basin has prepared her for her next chapter.
"My professors and coaches have been incredible support," she said. "They have been great mentors that have helped me to reach my full potential. I have always been able to reach out and ask for guidance."
That support has pushed her to continue her education. Orona graduated with her bachelor's degree in 2018.  She is currently working towards her Master's of Business Administration (MBA) and an Energy Business certificate. She will earn that degree in May 2020 and start a career in finance.
"I have developed professional interests in data analytics, financial analysis, audit and assurance among others," she said.
Orona says her key to success was simple: get involved.
"You have to be active! Get involved in student life, the community and student groups," she said. "You have to be open to trying new things – college is all about finding yourself, new passions and hidden talents. Once you discover these passions, strive for greatness."