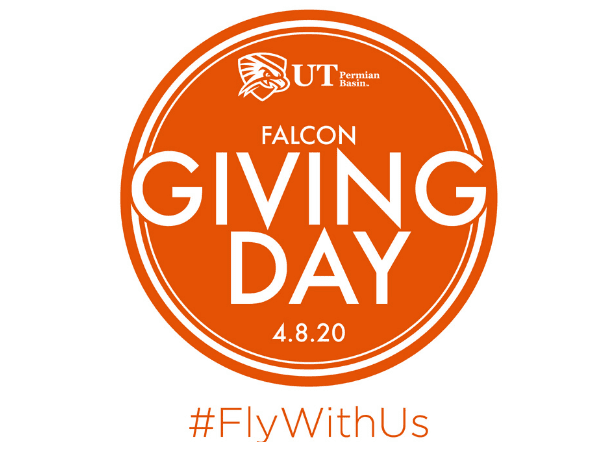 Falcon Giving Day
Apr 03, 2020
By Alexa Dunson, Communications Manager
The University of Texas Permian Basin is committed to supporting our students during these unprecedented times. On April 8, 2020, UTPB will hold our inaugural Falcon Giving Day where the University will dedicate 24 hours to online fundraising. UT Permian Basin is asking the community to consider giving to our Student Emergency Fund or the UTPB Food Pantry to help students who have been affected by the COVID-19 pandemic.
"We depend on the generosity from donors, alumni, staff, faculty, and the community to meet the needs of our region and help our students – some of whom were not able to return to their homes. We know many families will also face the adverse economic effect of the economic downturn. Investing in UT Permian Basin means investing in the future of West Texas," said UT Permian Basin Annual Giving Coordinator, Danielle Davila.
The Student Emergency Fund is dedicated to helping students overcome unforeseen financial crises like COVID-19. Often times, students are faced with the difficult decision to drop out of school or not graduate. That's where we step in and with community support. The University can lend a helping hand.
"Many people think of college as a carefree time of life but the reality is many students have very limited resources. Recent research shows that emergency aid in small amounts, typically $300 or less, can keep a students from dropping out when confronted with unexpected financial hardship. A gift to the Student Emergency Fund means your gift can help keep students enrolled. These acts change lives in dramatic ways," said Vice President of Student Affairs and Leadership, Dr. Becky Spurlock.
We encourage everyone to visit our Falcon Giving Day page and consider giving a gift of any size on Wednesday, April 8.